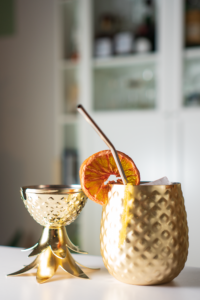 It is week three in the Tiki month and we will stick to Tiki drinks with Amaros for a little while longer. As mentioned in the last article the Jungle Bird is a Tiki classic using Campari. However, the drink is a great base for cocktail variations. Especially when you have a new rum on hand.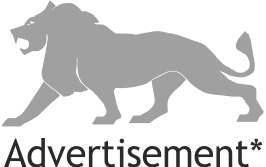 The Black Tot Rum pays tribute to the legendary rums of the British Navy. On 31st of July 1970 the tradition of daily rum rations came to an end. This day became known as Black Tot Day. The new rum is a blend of molasses-based rum from Barbados, Guyana and Jamaica. The rum is distilled on column and pot-stills aged in ex-bourbon American oak barrels. Furthermore, it is unsweetened and not chill-filtered. On top of that, the Black Tot is not coloured.
Dry molasses based rum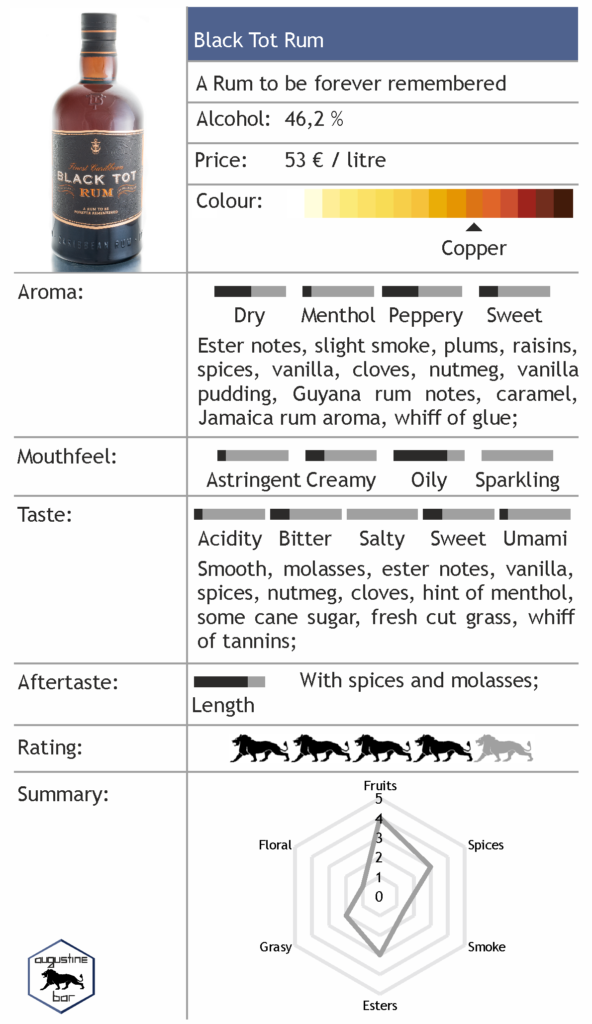 The Black Tot Rum is a emblematic rum blend. You can taste molasses and Jamaica rum notes. On top of that, there are some exotic fruits, which might come from the Barbados rum in the blend. The Guyanese rum is not that prominent in the taste, but you can detect some regular Demerara rum notes.
The bird is the word
Of course, the regular Jungle Bird cocktail is a great cocktail. Nevertheless, it is also a great base for variations with other Amaros. This time I used one of my favourite Amaros the Gölles Edelbitter. It is quite complex and slightly reminiscent of Ramazotti. This means it also makes a great mix for rum drinks.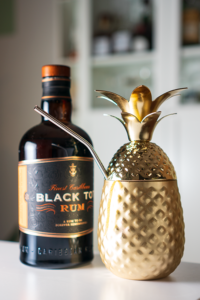 4,5 cl Black Tot Rum
2,25 cl Gölles Edelbitter
4,5 cl Pineapple Juice
1,5 cl Lime Juice
1,5 cl Demerara Syrup

Shake – strain – chilled Tiki mug over ice;
Garnish: Campari glazed Blood Orange Wheel – Lemon Twist;
Song: The Black Keys – Eagle Birds;

With the "Eagle Birds", the rum and the pineapple form a great combination of flavours. Apart from that, the spices and herbs from the Amaro are lingering on in the back. The drink is smoother than the original Jungle Bird cocktail. Nevertheless, the drink is complex and quite enjoyable. The Black Tot Rum gives quite a lot of funky rum notes without adding to the sweetness of the cocktail.
*The fact that I received a product reviewed in this article for free, did not – in any way – influence the rating of said product.