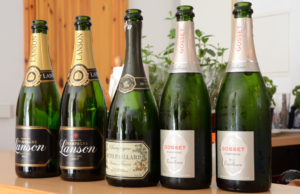 You thought the cognac seminar was the highlight of this years C&D forum meeting? – Please – for a successful meeting there has to be at least one champagne tasting. That's why on Sunday we did just that.

You could say that this was the final concert of our little get-together the seminar was held by the most experienced champagne expert I personally know. Torben Bornhöft from trinklaune.de was the host and he encouraged us to drink and taste our fair amount of French sparkling wine this afternoon.
The theme of the seminar was, as I already mentioned in the previous article, big champagne producers versus small winemakers. This was an especially interesting topic, since most people only know the big names like Moet Chandon and Veuve Cliquet. So it is time to show them, that there are better ones out there for less money.
All in all we sampled nine champagnes, ranging from 100% chardonnay to regular cuvees. The cheapest one will set you back about 27 €, the most expensive one 60 € and here are my tasting notes:
Lanson Black Label
33% Chardonnay, 17% Pinot Meunier, 50% Pinot Noir
Price: 30 €
Nose: green apples, fresh
Taste: bread and a lot of acidity
René Geoffroy Pureté
10% Chardonnay, 50% Pinot Meunier, 40% Pinot Noir
Price: 28 €
Nose: fresh, mild and fruity
Taste: floury green apple, more acidity, but better balanced
Chapuy Blanc De Blancs
100% Chardonnay
Price: 27 €
Nose: light fresh breeze, cork
Taste: little bit of acidity, again apples
Bruno Paillard Blanc De Blancs
100% Chardonnay
Price: 60 €
Nose: yeast, mild
Taste: sweet & fruity, bread, apples and honey
Gosset Brut Excellence:
42% Chardonnay, 13% Pinot Meunier, 45% Pinot Noir
Price: 30 €
Nose: less freshness, fruity
Taste: yellow fruits, sweetness, very balanced
Donson-Lepage Blanc De Noirs
100% Pinot Noir
Price: 34 €
Nose: yeast, fruits, gooseberry
Taste: very fruity, yeast, again gooseberry
Bollinger Brut
25% Chardonnay, 15% Pinot Meunier, 60% Pinot Noir
Price: 30 €
Nose: yeast, ripe fruits
Taste: astringent, ripe apple, bread
Ruppert-Leroy Fosse Grely
20% Chardonnay, 80% Pinot Noir
Price: 39 €
Nose: dry acidity
Taste: fruity, berries, acidity
Diebolt-Vallois Rosé
27% Chardonnay, 10% Pinot Meunier, 63% Pinot Noir
Price: 30 €
Nose: berries, sweetness
Taste: sweetness, strawberries

Besides the iconic Bollinger Special Cuvee the two champagnes I liked best were the Bruno Paillard Blanc De Blancs and the Donson-Lepage Blanc De Noirs. The Bruno Paillard was like a prototype of what champagne should be: enough honey like sweetness to be very pleasant and balanced with beautiful yeast notes on top of it. While the Donson-Lepage Blanc De Noirs was one of the most complex champagnes I ever tasted. It is certainly not an easy drinker, but it's very rewarding in its own way. If you take the price into account I probably should mention the Gosset Brut Excellence, too. It delivers almost as much as the Bruno Paillard and costs half as much.
In conclution there is nothing left to say, but thank you to the different champagne houses and their importers for this amazing supply of champagne!