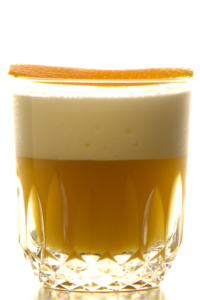 I've had this drink in my drawer for quite some time now, but only now it feels right to present it to you. This drink reflects a lot of things I like very much and it has already won a price in a small cocktail competition. So, let me present the namesake cocktail of my blog to you!
I don't particularly like the term "signature drink" neither on cocktail menus and nor on blogs. Apart from that, almost every cocktail I show you here on my blog is my creation and therefore deserves to be called a "signature drink". However, I thought that I should create a drink that bears the name of my blog and pays tribute to "the Augustines", one of my favourite bands.
Moreover, I was in need for a cocktail to take part in a cognac cocktail competition at the Cocktail & Dreams forum meeting. That is why the Augustine Cocktail is prepared with cognac instead of bourbon, which I first had in mind. With the base spirit settled I knew that I wanted to make a twist on the Old-Fashioned cocktail, because it was my favourite drink for quite some time. Yet I also wanted to incorporate sherry in my drink, because I just love it! That's why I went for a high quality dry Fino sherry.
A drink that can not be categorised
With the cocktail containing sherry now, I of course lost the right to call it an Old-Fashioned variation, but as long as the drink is delicious – who cares? Anyhow, if the sherry did not kill the Old-Fashioned base, the next ingredient would have done the job: I decided that the drink could use a foam as a topping. First I wanted to use a tobacco liqueur from France, but it turned out that I do not like the taste of it at all. So, instead I used a walnut liqueur from a German distillery.
Of course some hints of an Old-Fashioned are still there: I kept the simple syrup as a sweetener and the bitters. Instead of plain Angostura Bitters I choose Lemon Bitters, because I discovered a while ago that they work well with spirits made out of grapes. And hey: the drink is served in a Old-Fashioned glass after all…
Third price in the C&D cocktail competition
As I already mentioned the drink was my submission for the C&D forum meeting cocktail competition. First of all, I have to get some things straight. Yes, this is going to sound like a lame excuse and it probably is, but the conditions of the bar at the C&D forum loft were not great. There were a lot of people mixing drinks while the actual competition was taking place, which meant that every time I put some glasses in the freezer, they were gone after a few minutes. Moreover, the equipment did not fit together well, which meant that there was a lot of spilling when straining the drinks. But the thing that impacted my preparation of the cocktail the most, was the pressure.
It was the first time that I had to mix a drink, not in front of people as in the bar I am working in, but in front of a professional jury. And yes we had a professional jury, even if we just are semi-professional bartenders… The thing I took back from that was, that live cocktail competitions are really not my thing.
3 cl
Chateau De Montifaud Napoleon Cognac
3 cl
Fernando De Castilla Fino Sherry
3 Dashes
The Bitter Truth Lemon Bitters
0,375 cl
Simple Syrup
Top off with Walnut Liqueur Foam*
Stir – fill chilled Old-Fashioned glass half with walnut foam – strain drink through foam;
Garnish: Spray some lemon bitters on top – orange twist;
Song: Augustines – Now You Are Free
9 cl Lantenhammer Walnut Liqueur
4,5 cl Lemon Juice
3 cl Water
2 Egg Whites
Fine strain lemon juice – combine in a siphon – close siphon – double charge with two N2O charges – chill;
Sorry for the weird amount of 1/8 oz simple syrup, but it is the exact amount of syrup at which the drink is perfectly balanced. If you use more it will get far too sweet and I am guessing that this is due to the liqueur containing sugar and being charged with N2O which is supposed to taste sweet as well. Apart from that I know that all of the ingredients are anything but cheep. However, I intended the drink to be special and somewhat luxurious. Incidentally I discovered one of the best cognacs I ever tasted, when ordering the Chateau De Montifaud Napoleon.
So how does this concoction taste?
The benefit of adding the foam first, instead of placing it on top, is that when straining the cocktail into the glass, the flavours already combine. That means that the foam, which will hit your palate first, tastes of nuts with a slight addition of wine flavour from the drink. When you finally sip the drink, you will notice that the nutty sherry aromas go very well together with the walnut foam. However, the cognac binds the whole thing together with a subtle sweetness, hints of caramelized violets and a strong Rancio aroma. I don't have to tell you that I am very pleased with this drink, even though I would have wished that it would have fared better in the cocktail competition.
There is nothing left to say apart from thank you for your support in the last year! Obviously, I wish you a Merry Christmas and a Happy new Year, too!