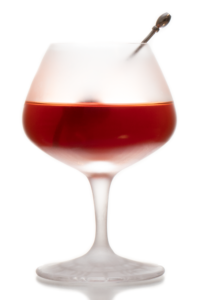 I cannot tell you why, but when working on a cocktail with the Bunnahabhain 12 Years I thought about the Hunter cocktail. This drink almost cannot be called a cocktail anymore, because it originally only includes two ingredients. Nevertheless, it is a great combination of whisky and cherry liqueur. What I can tell you straight away is that it works very well with the Bunnahabhain!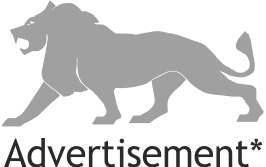 Mouth of the river
That is what Bunnahabhain means in Gaelic. The distillery was founded 1881 and is the most northern distillery on Islay. Bunnahabhain operates four stills, two wash stills, with a capacity of 30.000 l, and two spirits stills, with approximately 15.000 l. The stills have a round pear shape which results in a spicy and complex spirit. As the start of the Bunnahabhain line-up, the twelve-year-old ages in Bourbon and Sherry casks and is bottled at 46,3 % ABV. On top of that, the whisky is not chill filtered with no addition of colour.
Maritime notes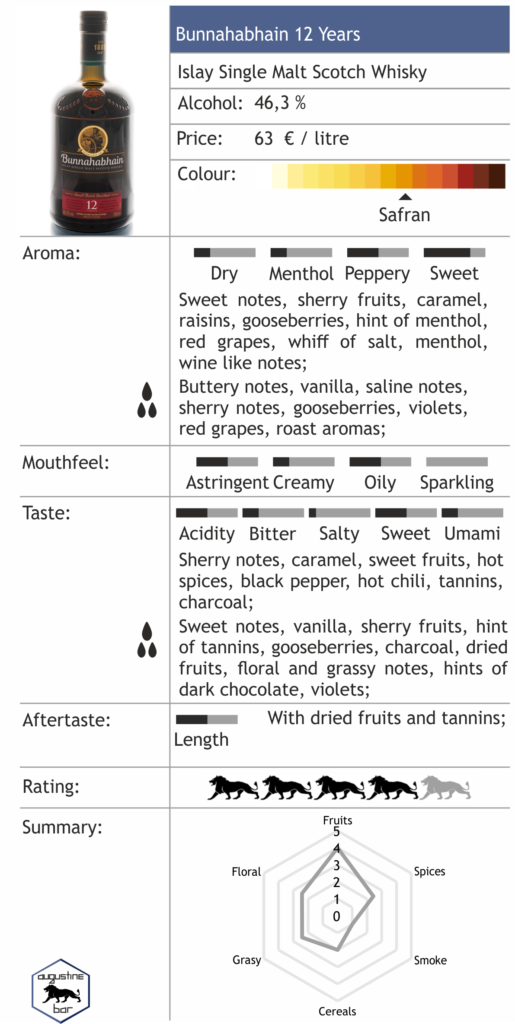 The curious thing about the Bunnahabhain is that it has clear Islay whisky characteristics, but lacks the familiar peat smoke. Instead the single malt is very well balanced and rather complex. You clearly notice the sherry cask influence with distinct dried fruit and even some red wine notes. The whisky has quite a briny quality which reminds me of sea salt.
Hunter Cocktail
Originally, the Hunter Cocktail is a mix of American whiskey and cherry brandy. I modified this recipe just slightly and added a few drops of Dr. Sours #9 3 Chiles Bitters. I cannot tell you why I chose exactly those bitters, but they contrast the sweet cherry and sherry fruits very well. For the cherry brandy, I used Vallendar Sour Cherry Liqueur which is very well balanced and has medium kernel flavours. However, in my opinion the drink would also work with Cherry Heering.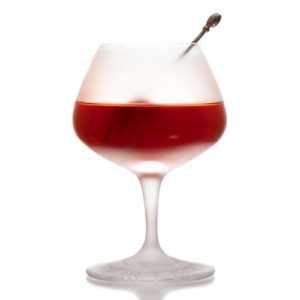 4,5 cl Bunnahabhain 12 Years Single Malt
2,25 cl Vallendar Sour Cherry Brandy
1 Dash Dr. Sours #9 3 Chiles Bitters
Stir – strain – chilled cocktail glass;
Garnish: Brandied Cherry;
Song: The Foals – Lonely Hunter;
The drink starts off with a lovely combination of sour cherry notes and dried fruits. Next you will notice the single malt with a hint of cereals and a spicy backbone. The bitters just accentuate the overall composition and you really should just be able to sense the slightest whiff of chilli peppers. The Bunnahabhain works very well in this cocktail, because it delivers complexity without overwhelming the other ingredients with peat smoke. Yet, you should also experiment with other whiskies to see which one you prefer!
*The fact that I received a product reviewed in this article for free, did not – in any way – influence the rating of said product.