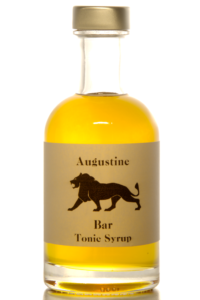 After the Tonic Water Tasting, I asked myself how homemade Tonic Water would stand up to the test. This actually was something I wanted to try for a long time now. So, I set to work and made some tonic syrup. And here are the results!
First I wanted to use Jeffrey Morgenthaler's recipe, but after a little more research I found this recipe from pinch and swirl. It is based on Jeffrey's recipe in combination with one from Lottie + Doof. The reason I used pinch and swirl's was that I, like Marissa, was afraid of the syrup overpowering the gin. I can tell you right now that the syrup, while being very bitter and fragrant, does not overpower the gin! Actually, I am very pleased with how it turned out, but more on that later!
First I needed to buy some cinchona bark, I took Jeffrey's advice and bought powdered cinchona bark. It came in a plastic bag, had a bronze-like colour and even so I ordered the smallest possible amount it is far more than I could use in the foreseeable future. With the bitter ingredient on hand I bought organic citrus fruits, too and set to work.
Because I did not have lavender on hand I threw in some juniper berries. If Fentimans does it, it can't hurt, can it? Apart from that I stuck with pinch and swirl's recipe. I just adjusted the amount and used a little less quinine, because I used the powdered stuff.
Tonic Water Syrup:
20 g Powdered Cinchona Bark
20 g Citric Acid
3 Lemons (Zest only)
3 Limes (Zest only)
1 Orange (Zest only)
10 g Juniper Berries
15 g Dried Lemon Grass
1/2 Tsp. Salt
350 ml Water
Add all the ingredients to a jar and let rest for three days, agitating daily.
ca. 300 ml Simple Syrup (2:1)
After three days: Filter everything through a coffee-filter, add simple sugar until it is sweet enough, stir and fill into clean bottle.
The finished syrup is very powerful stuff: It smells of citrus peel with a heavy bitterness and some floral aromas. Of course, it is not really delicious on its own, but it is intended to be mixed, anyway!
Obviously the first drink I had to try was a Gin & Tonic: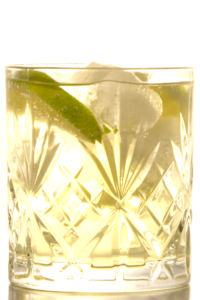 Top off with Sodawater
Add everything to a Double Old-Fashioned glass and stir to combine;
Garnish: Lemon Slice


Actually, I was I bit surprised how good it was. I expected it to taste too bitter, with not much gin flavours going on. Instead it had the right balance between bitternes and sweetness and the gin came through nicely. The only drawback was that there was to little carbonation in it, but that was due to the mineral water  I used. Next time I will make a finished Tonic Water in my soda siphon. I just wasn't in need of 1 liter of tonic water on one evening…
The second drink I tried was the "Tom Tonic Collins". Which is basically a Tom Collins with the simple syrup switched out for tonic syrup.
Top off with Sodawater
Shake first three ingredients – strain – Highball glass filled half with sodawater and ice cubes;
Garnish: Lemon Wheel

The Tom Tonic Collins reminded me of the actual Tom Collins, just with a hint of bitterness in the aftertaste. It was very smooth and it almost could have used more gin, but it could definitely be the right choice for a hot summer evening. I found the recipe for this drink at the Thomas Henry website, along with the last drink I dried: "The Fcuk Hugo".
Shake – strain – Double Old-Fashioned glass over ice;
Garnish: Limewheels;


If I had to choose a favourite of these three drinks, it definitely would be the "Fcuk Hugo"! And no, it's not because of the name! It just the right combination of fresh citrus, flower and bitter elements. With the gin coming shining through nicely. This indeed makesan excellent Hugo substitute and therefore the perfect summer drink.