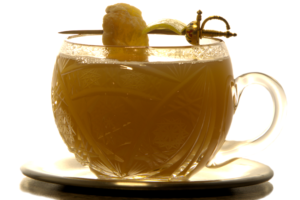 In this unpleasant weather we all are in need for something to fight the cold and keep the doctor away! This is why I set to work and created a hot cocktail to do exactly that: The Fever Cocktail! Which uses a spiced rum produced in Scotland.
Very crazy indeed!
Now you might ask yourself two things: "Why name a drink after the symptom you actually want to fight? And, who is crazy enough to produce rum in Scotland?" First, in this case it is more like "know you enemy" and obviously the cocktail is also named after a song. Apart from that, I also know that if you are really ill you should not drink alcohol at all. Especially if you are taking cold medicine! Nevertheless, I created this drink for those days where you feel a bit exhausted and weary, but let us get to the second question: The Dark Matter Spiced Rum is really produced in Scotland! Every step of the production, including the distillation is done there and the molasses comes from a UK supplier, too. As you can read on the Dark Matter Distillers website, two years of research went into the production of this rum. Also science was used to perfect the tasting experience, although it is left unclear how exactly science was applied to develop the product. In my opinion every distiller has to know his fair share of chemistry and fluid dynamics, because otherwise he would not and up with a enjoyable product… Notwithstanding, allspice, fresh ginger, green and long pepper are used to add more flavour to the whole thing.
| | |
| --- | --- |
| | Dark Matter Spiced Rum |
| Alcohol: | 40 % |
| Price: | ~ 50 € per litre |
| Appearance: | Burned siena, small windows, slow tears |
| Nose: | Allspice! nutmeg, cloves, slight bitterness, a lot of pepper |
| Taste: | Sweet, again slightly bitter, a shipload of cloves, hot pepper and nutmeg |
| Aftertaste: | Long aftertaste with pepper and a bunch of other spices |
| Rating: | |
Jim Ewan, one of the two brothers producing this rum, says you should forget everything you thought to know about spiced rum. – Raymond Hackland, another Scotsman and one of the owners of A Wee Taste Of Scotland mentions, that this might be the most aromatic spiced rum ever produced. Well, what can I say? All what they said is true! This is nothing like cloyingly sweet Sailor Captain Oak Heart! (Editor's note: the author knows that there is no such thing as Sailor Captain Oak Heart) Instead, this one hits you in the face with a fist full of allspice and pepper. Figuratively speaking of course, but I am not exaggerating when I am saying that the spices are so intense that they almost hurt. This is the only reason why the Dark Matter does not receive a higher rating. The rum base clearly is of very high quality, but in my opinion you have to be quite a spice lover to enjoy this one neat. Yet, it seems perfect to mix aromatic cocktails! And I am not talking about mixing it with Coke here… Instead, you should mix up a hot drink to soothe you nerves on cold winter evenings.
Perfect for keeping away the cold
My creation the Fever Cocktail has certain elements of the Hot Buttered Rum a la Trinklaune. I just switched out some ingredients and left out the butter, because I wanted to create a less corpulent style of cocktail. Instead of apple juice I used Williams (Bartlett) pear juice and I also exchanged the cinnamon syrup for honey mix. To change things a little bit further I added fresh ginger, since this also was used in the production of the Dark Matter Rum. Basically, this is all there is to say about the development of this new drink.
1 Big Slice Peeled Ginger
Muddle peeled ginger in small pan – add honey and pear juice – bring to a slight boil – pour into preheated mug – float rum –slightly stir;
Garnish: Candied Ginger – Lemon Twist;
Song: Black Keys – Fever
Since this is a hot beverage the first thing you will notice is a powerful aroma of rum and spices. Certainly, this evokes memories of ginger bread and Christmas. This feeling is even more amplified when taking the first sip. There is an impressive coalescence of the pear juice and the rum, accompanied by cloves, nutmeg and other spices. In the aftertaste a certain molasses flavour becomes more prominent, together with a slightly pungent ginger taste. If I had to compare this drink to a Hot Buttered Rum, I would say that this is similar, but the overall drinking experience is less opulent. Perhaps this is exactly the right thing to sip after having enjoyed the Christmas goose.