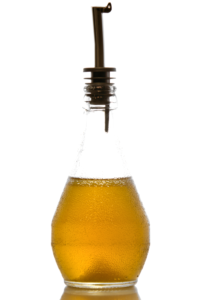 There are different ways of adding elements of another drink to a cocktail, aging, infusions, fat-washing… Still, one of the easiest ways is prepairng a syrup containing some of the ingredients used in the original cocktail. In this case I wanted to flavour an Old-Fashioned with the aroma of a Martini. The logical consequence was to make a vermouth syrup!
As mentioned before making syrup is fairly easy. Basically, you just need sugar, water and a flavour of some sorts. In my case, I used dry vermouth to replace some of the water in the mix. On top of that, I also added some spices which work well with vermouth and gin. After checking the Foodpairing website for ingredients matching vermouth. My inital idea was to also use juniper berries in the syrup, but dried juniper sometimes tastes a little bit old, especially if it is… old…, you know. So, I stuck to a simple mix of nutmeg, rosemary and thyme. However, there really is no limit to your creativity here, as Mr. Boudreau impressively shows with his Old-Fashioned syrup.
Let the fun begin!
Homemade Spiced Vermouth Syrup:
(Makes one small 200 ml bottle)
125 ml
Belsazar Dry Vermouth
50 ml
Water
150 g
Light Cane Sugar
3 Pinches
Dried Rosemary
3 Pinches
Dried Thyme
1 Pinch
Freshly Grated Nutmeg
1 cl
Tanqueray London Dry Gin
The only tools you will need are a small, clean bottle, a pan, a scale and a sieve. After measuring all of the ingredients just add the sugar to a pan, also add the spices, vermouth and water. Bring everything to a boil, while constantly stirring. When all of the sugar is dissolved, turn of the heat and strain through sieve. Bottle the syrup when it is still hot. Add gin and mix with bottled syrup. Keep refrigerated until you use it. The vermouth syrup will not only work in drinks like the I Never Get Old, but also be the ideal choice for adding more complexity to your favourite Tom Collins and Gin Sours. – By the way, it is this time of the year again(Tiki month)!