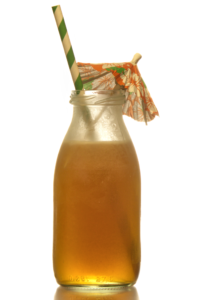 Following last week's crazy Tiki adventure the cocktail I want to present to you now is quite different, but still very intriguing! This time the name is more than just the title of a song, instead it is also a hint for the Nordic ingredients used in the recipe. Ingredients from the North in a Tiki drink?! Well, you will have to read the whole article to see if it really works!
After last week's Tiki cocktail, which used brandy instead of rum, I thought I would push the boundaries of Tiki a little bit further. I built the drink around guava as a flavour, but this did not stop me from thinking out of the proverbial Tiki box on the other ingredients. Now, if you just read the plain recipe the drink might not sound like that big a deal, but I can already tell you that this one is really worth the trouble! However, first things first… Again, I started with one ingredient and searched for matches on the Foodpairing website. – No, I am not getting paid by them, although in my opinion they should give me a free "Expert" account for all the advertising I am doing.
Be that as it may, I decided to also use Triple Sec and Angostura Bitters in the "Cold Summer". So far the list of ingredients sounds not that special at all, but I have not told you the base spirit just yet. Again, I am not using rum, which is kind of the theme this Tiki month, but aquavit. Yes, you heard right, aquavit in a Tiki drink! This might sound like a sacrifice to a rum aficionado, but to me it does not. Tiki is more than just rum and exotic juices. It is more like a sensory experience you have when sipping the drink. The wild mix of ingredients suddenly blends into an aroma that is greater than its individual components. Of course, at least one element in the recipe should resemble an exotic flavour or fruit, but with the use of guava syrup I am on the safe side here.
6 cl
Viti Aquavit
0,75 cl
Cointreau
2 Dashes
Angostura Bitters
6 cl
Apple Juice
2 cl
Guava Syrup*
Shake – strain – chilled milk bottle – serve with straw;
Garnish: Cocktail umbrella;
Song: Seabear – Cold Summer
*Guava Syrup
100 ml Guava Nectar
100 g Light Cane Sugar
1 cl White Rum
Add sugar to pan – add nectar – bring to boil – remove from heat – bottle – add rum;
This cocktail might be one of the hardest ones to describe! It is rather complex, because of a lot of interacting flavours to discover. First, there is a certain tropical taste from the guava which instantly interacts with the apple and the herbal elements from the aquavit. The combination of booze and apple juice almost reminds me of cider with additional fruitiness and spices. Through the over flavours the caraway taste of the Viti is a little bit suppressed, but it still shines through in the aftertaste. I was already pleased with my latest Tiki creation, but I enjoyed this cocktail even more. The combination of exotic and familiar flavours shows how much potential there is in Tiki drinks. Of course, let us not forget that there are other great cocktails out there that actually contain rum!