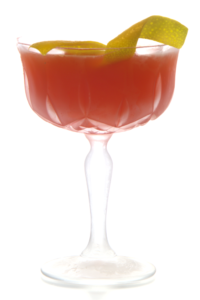 Happy Christmas to everybody! Even though the drink I want to present to you is kind of an inappropriate one for Christmas. However, there is nothing wrong with reminding yourself of summer every once and a while! One great way to do so is to take a sip of Strawberry Rum from Nicolas Kröger! I am a big fan of his products after trying his Platinum Rum. I especially like his new and unconventional approach to spirits. Apart from rum, he also makes juniper based liquors!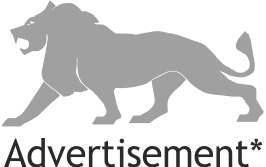 Usually, I would stay well clear of a strawberry flavoured rum! The reason for that are not the strawberries themselves, but rather the artificial colouring and flavouring of those products. Nicolas had the same feeling and wanted to create something better with the full flavour of strawberries. So, he only used fresh strawberries for his rum, without adding any artificial colouring, flavours or sugar. Just a whole lot of berries are macerated in rum. This means that you can enjoy the taste of pure strawberries in all sorts of drinks now!
Strawberries, strawberries and rum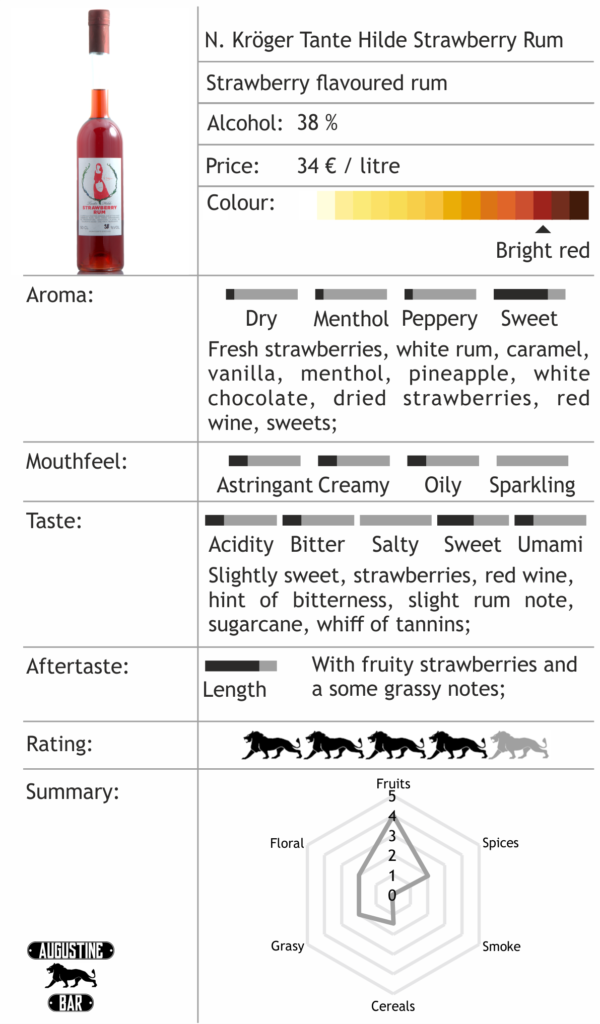 Well, there is not much to say about the taste of the strawberry rum. This is neither due to a lack of flavour, nor of quality. Nicolas' rum just does exactly what the label says. It tastes of strawberries and rum. Apart from that, there are slight caramel and vanilla notes and also an interesting whiff of white chocolate. Although, there is no added sugar in this, you still get a slight hint of sweetness. All of this means that the rum is great for the aforementioned adding of natural strawberry flavour to cocktails. And this is exactly what I did!
Refreshing summer cocktail
First I wanted to create a Tiki cocktail using chocolate spirit, rum, apple juice, black tea and honey. The result was good, but I was not quite satisfied with the drink. So, I kept on pondering over what to make with the strawberry rum and after a while I had the idea to pair it with Aperol. Now, while I am not a big fan of the plain Aperol Spirtz, I do like Aperol's more subtle bitterness compared to Campari. I ended up with a Sour style drink and the final recipe calls for the strawberry rum, Aperol, grapefruit and black tea bitters, lemon juice and agave syrup. To give the whole drink just a little bit more complexity I sprayed some Pure Juniper, also from Nicolas, on top of the drink. This great juniper spirit is produced by the Marder distillery and ways in at a whooping 73.8 % ABV!
5 cl N. Kröger Strawberry Rum
3 cl Aperol
2 Dashes Grapefruit Bitters
3 Dashes Black Tea Bitters*
3 cl Lemon Juice
1 cl Agave Syrup
Spray
N. Kröger Pure Juniper on top
Shake – strain – chilled Champagne glass;
Garnish:
Large orange twist;
Song:
Jim James – Here In Spirit
*Follow my guide to homemade bitters here and add very, very strong black tea to the bittering agent.
The final drink is a very refreshing and nicely balanced combination of sweet fruitiness and a delicate bitterness. Also, as you can see on the picture, it has an appealing colour. While only used to perfume the finished cocktail, the Pure Juniper is clearly noticeable. It gives the drink a slightly earthy and herbal edge. Don't worry if you don't have it on hand, a healthy dash of Navy Strength gin will also do the trick! All in all, my experiment with the strawberry rum went very well and I cannot wait for summer to make other refreshing drinks with it. In the meantime, the strawberry rum will serve as a reminder of the warmer days. Anyway you put it, there will always be an excuse to fix yourself a drink with it!
*The fact that I received a product reviewed in this article for free, did not – in any way – influence the rating of said product.