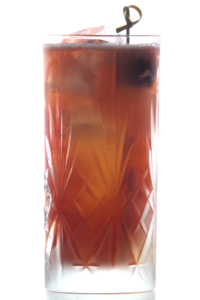 After an involuntary break from blogging, let's continue with a great new article: Although, I am hoping that the "next big thing" will be eau de vies, from time to time a new gin still manages to win me over! So, I took this as a reason to combine eau de vie and gin in one unusual cocktail recipe. To make things even more odd, I also decided to use a local liquorice liqueur, too. If all of this might sound too crazy for you, I get it, but it turned out to be a pretty great combination after all!
The Isle Of Harris Gin already received a lot of praise from two of my blogger colleagues: First, Oliver Steffens aka. The Ginthusiast enjoyed it in a Negroni with Punt E Mes. Second, Sepo from the Galumbi blog recommended it as one of the best gins he tried in a long time. However, despite all of this praise, the basic facts are pretty down-to-earth. The gin is distilled by the Isle Of Harris Distillery LTD. on the Isle of Harris in a small copper still called "The Dottach" using nine different botanicals. Angelica root, bitter orange peel, cassia bark, coriander, cubeb pepper, juniper, licorice and orris root are the traditional botanicals in the mix with the addition of maritime sugar kelp which is harvested by a diver. The gin is bottled at 45 % ABV in a very artistic and beautiful bottle.
To make things short, because we have a lot to talk about this time: The Isle Of Harris Gin is precisely the kind of gin I like! There are a lot of juniper, fir needles and other classical gin flavours in the taste. Yet, at the same time the gin manages to be complex with interesting touch of sweetness and moderate citrus notes. If you are not just a gin, but also a juniper fan, I can only endorse what my colleagues said and also highly recommend the Isle Of Harris Gin to you! – And yes, it does make a very good Gin & Tonic with Fever Tree and a lemon wheel!
Did you say carrots?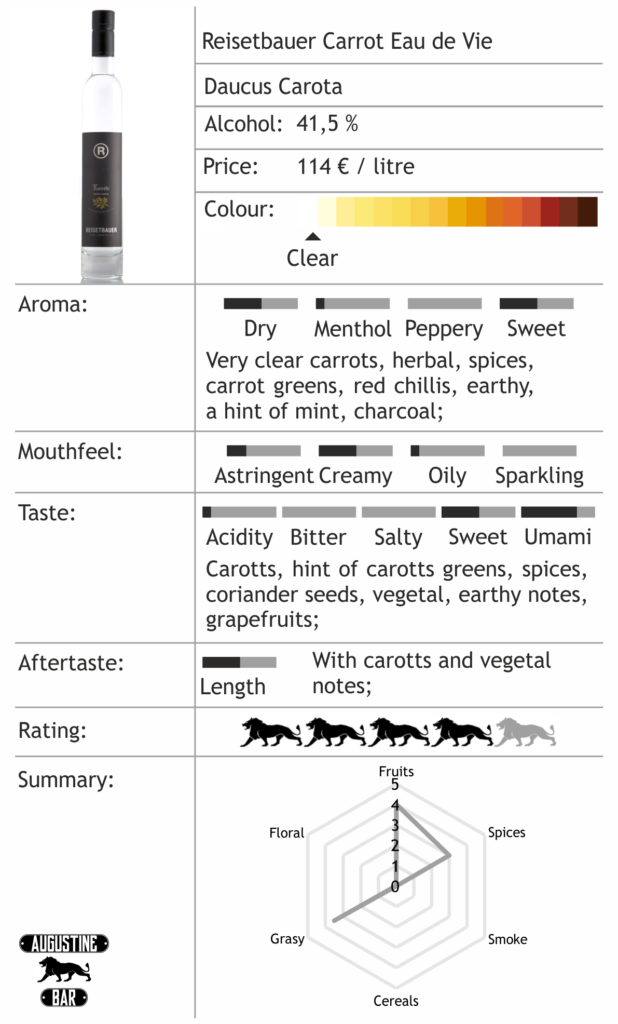 Yes, the decisive ingredient for the "Carry It On" is a carrot eau de vie! On top of that, it is not just another carrot spirit, but one distilled by one of the highest endowed distillers here in Europe. The Reisetbauer Carrot Eau De Vie is made by meticulously washing the carrots and liquefying them with natural enzymes. Afterwards, the mash is fermented between eight and ten days in stainless steel tanks and distilled twice using raw and fine distilling. 35 kilograms of carrots are used for the production of one litre of carrot eau de vie.
The underestimated root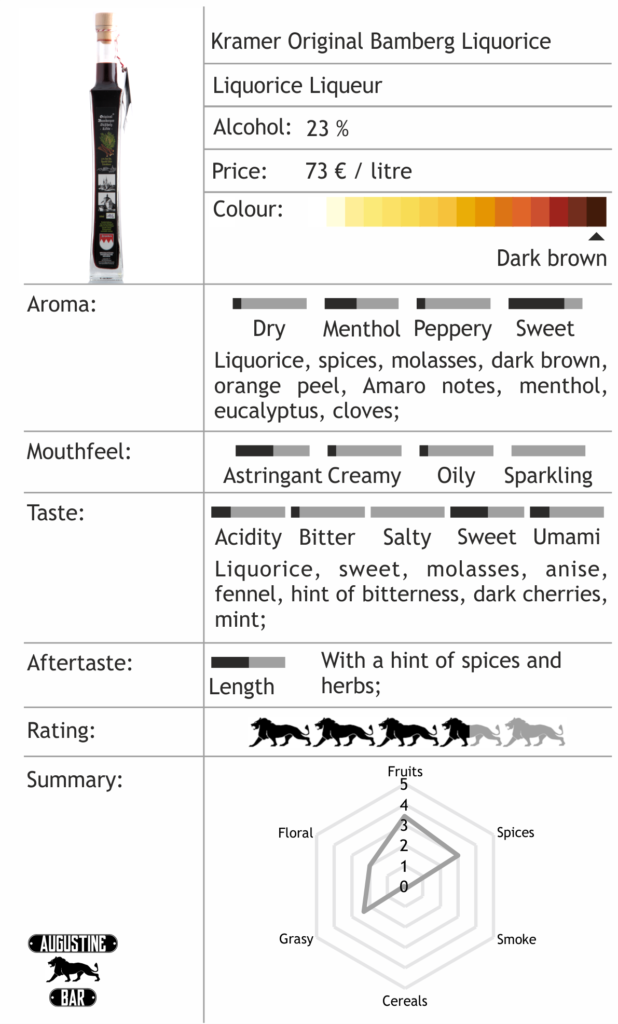 Liquorice is a relatively unusual ingredient in high quality cocktails. Maybe this is due to 50 % of the population hating it, while the reminder of people loves it, or it might be because it is hard to incorporate into a cocktail. However, now there is an easy way to do so: The Kramer specialty store in Bamberg produces a liqueur with organically grown liquorice combined with fruit, herbal, spice and flower extracts. In total the Original Bamberger Liquorice Liqueur is a complex combination of over twenty different ingredients and it took a few years to complete the recipe.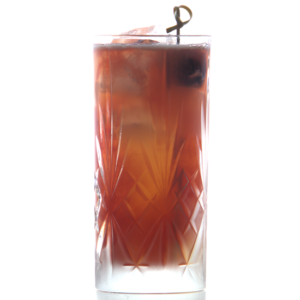 3 cl Isle Of Harris Gin
2,25 cl Reisetbauer Carrot Eau De Vie
3 cl Lemon Juice
2 cl Simple Syrup
Top off with Rhubarb Lemonade
Float 1,5 cl Kramer Original Bamberger Liquorice Liqueur
Shake first four ingredients – strain – Highball glass over ice cubes filled half with rhubarb lemonade – float liquorice liqueur;

Garnish: Brandied Cherry;
Song: Racing Glaciers – Carry It On
I know the combination of gin, carrots and liquorice sounds a little bit crazy, and maybe it is. Yet, every element of the drink goes well with the others. For example there are similar herbal notes in the gin just like with the liquorice liqueur. The same thing goes for the gin and the carrot eau de vie. The addition of rhubarb lemonade was something I stole from famous chefs who discovered that rhubarb pairs perfectly with liquorice. All in all, the "Carrot It On" is a complex and still refreshing highball style of drink, which is perfect for those summer days were a Gin & Tonic just does not get the job done!
*The fact that I received a product reviewed in this article for free, did not – in any way – influence the rating of said product.