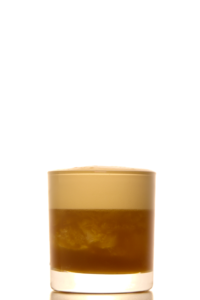 This month's Mixology Monday is all about nonalcoholic cocktails. – Now don't panic and run off to Small Screen Network to get your fix! It's about high quality cocktails, just without the alcohol!



As Scott already explained in the announcement post, it's not about overwhelming sweet drinks with just a few different fruit juices and syrup. It's all about homemade ingredients, shrubs, syrups and so on. Just leave the bottle of booze on the self this time and try to enjoy a good nonalcoholic cocktail for a change.
Enough introduction let's get to the point! I created this drink, because if you and your friends reach a certain age, there always is someone that can't drink. Either because he or she is driving or has to study/work/do sports/get up early/*your favorite excuse* the next day, or a combination of those things. That's why I decided to create a few nonalcoholic drinks that aren't inferior to their alcoholic counterparts. The number of really good Mocktails is still low. There are a few ones out there that I really consider good, for instance the Bittermens Friend or the Toxic Garden, both created by Klaus St. Rainer of the Goldene Bar in Munich. However, when thinking of nonalcoholic drinks, far too many people think of glasses overflowing with syrup and a splash of juice. The reason why in my opinion is that a lot of people just think of nonalcoholic cocktails, as an alcoholic cocktail where the spirit is left out. That leads to drinks that lack something and the first thing they do is add more sweetness, because more always equals better, right?
The problem is that in most cases you already have enough sweetness in the drink, so the only thing you will accomplish is a far too sweet drink, which no one besides children and people with a sweet tooth will enjoy. The remedy to this problem lies in replacing the alcohol with something that has an equally strong flavor. The things I like to use here are coffee especially espresso, fresh herbs, strong tea or even vinegar.
My nonalcoholic cocktail that has gained the highest praise is a drink called "Hawaii 403". It's a Tiki style drink that manages to be exotic without containing rum or being overpowering sweet. Basically it's an espresso sour with almond syrup and honey. The interesting thing is, without any alcohol the quality of the rest of the ingredients matters even more! For the almond syrup I use homemade orgeat or Meneau orgeat. (If you are in the States I think BG Reynolds Orgeat should work here, too.) Monin or Giffard Orgeat don't work here at all, you really need almond flavor and not Marzipan. As for the espresso, a freshly brewed one works best. The stronger the better! You can even dissolve the honey in the still hot espresso right away. Last but not least the quality of the honey is important, too. Did you expect any different? I like to use an organic multi-flower honey. If you make honey syrup, that means diluting it with water, which makes it easier to measure, or dissolve it in the freshly brewed coffee is up to you. The drink works both ways.
4,5 cl Cold Espresso (Leave it 5 min after brewing and it will be cold enough)
2,25 cl Orgeat
1,5 cl Honey Mix
3 cl Lime Juice
Shake – strain – Double Old-Fashioned glass over ice;
Garnish: lime twist & chocolate covered coffee beans;
Song: Jack Johnson – Jungle Gym
Of course this drink tastes of coffee, but the honey and the almond syrup give it a more exotic flavor of nuts and flowers, while the lime juice balances out the sweetness of both. The only problem with this is because it contains no alcohol you will knock it down like water. Luckly you don't have to worry about the consequences. Well only if you don't mind staying up a little bit longer, because of the caffeine.
Check out Shake, Strain & Sip for the recipes of the other participants!