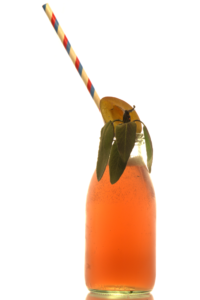 Today I am going to present an interesting and new approach to eau de vies to you: The Tesla Slijvo combines a traditional plum eau de vie with optics that would also suit a new gin bottling. This way it should be able to reach a broader clientele than your typical eau de vie connoisseur. So, let's put the Tesla to the test and see if it is really more than your average eau de vie!
Luckily not another "new" gin
Behind the Tesla Sljivo stand three guys from Frankfurt's Barnetzwerk, who fulfilled their dream of their own spirit. Luckily they choose not to make another gin and instead went ahead to produce their own Slivovitz. Named after the famous Croatian electrical engineer and inventor Nikola Tesla the Tesla Sljivo is produced in Zagreb and then shipped off to Germany's bank metropolis to enrich its backboards. Apart from that the spirit is unaged and bottled at 42 % ABV and comes in a beautiful grey bottle with an artistic labelling, just like your favourite bottle of gin would! However, immediately after opening the bottle, it becomes very clear that this is NOT your next gin, but much more instead!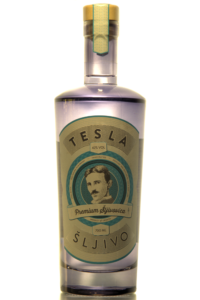 | | |
| --- | --- |
| | Tesla Sljivo |
| Alkohol: | 42 % |
| Price: | 56 € per litre |
| Appearance: | Clear, small windows, very slow tears |
| Nose: | Plums, cinnamon, sweets, hints of vanilla, some almond flavour, vegetal notes, plum cake |
| Taste: | Fruity, plums, spices, again reminiscent of sweets, slight almond flavour, a hint of cooling alcohol |
| Aftertaste: | Menthol, very long, fruity, but dry aftertaste |
| Rating: | |
Not that I would have expected anything else, but I was very impressed by the Tesla! It manages to deliver a full-bodied plum taste, while being enjoyable on its own as well as having enough kick to stand out in cocktails. What I enjoyed most were its almond, cinnamon and vanilla notes, because they enrich the spirit and form a more complex flavour. When drinking the Tesla neat, some people may notice a slight sting, which I think comes from the bottling at slightly higher strength. However, I am glad that it does not go down too easily, since this means that it can keep the upper hand when being paired with strong flavours in cocktails. This is why after a consolidation of my flavour bible, I decided to work with no less than three of them.
3 Sprigs Sage
Top off with Soda Water
Slightly muddle sage in base of shaker – add all ingredients except soda water – shake – fill chilled small (250 ml) milk bottle 1/3 with soda water – double strain drink into prepared glass;
Garnish: Caramelized Plum – Sage Sprig lit on fire – straw;
Song: BØRNS – Electric Love
Like being thunderstruck
The first sensory impression you will get from this cocktail is certainly the smell of burned sage and I included this as a reference to be struck by lightning. On the other hand the drink tastes nothing like smoke at all. Its main flavour is a fruity and powerful plum aroma from the Slivovitz. This is accompanied by a slight hint of acidity and bitterness, which makes sipping the drink a very refreshing experience. At no time the bitterness of the tonic syrup overwhelms the cocktail, instead it just stays at the back of your palate. After a while new flavours emerge: The red wine liqueur becomes more prominent and brings a certain amount of spices and vanilla to the surface. I know I should not praise my own concoctions, but I really enjoyed this complex, yet refreshing combination!
All in all, I am very glad that I had the chance to review the Tesla Sljivo. It delivers everything you can expect from a eau de vie: it is great on its own, has enough power to take a stand in cocktails and it has a glorious modern design! Just a quick side note at the end: It makes hell of a Moscow Mule variation: Just replace the Vodka with Tesla and add a pinch of cinnamon and you will end up with what I call the Tesla Mule!