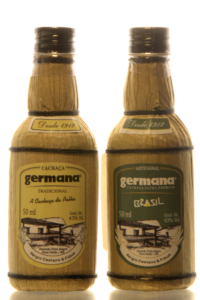 While the Caipirinha may be on of the most ordered cocktails in Germany, good Cachaça still is hard to find. Most people may just not even know that the spirit in their favourite drink is called Cachaça! However, there are people out there like Christian Wurm and his company Sucos Do Brasil who set out to change that fact and import premium Cachaça. I had the chance to ask Mr. Wurm some questions about Cachaça and the company Germana in special.
Cachaça in banana leafs
I still can remember that when I first started taking the whole cocktail thing more seriously I discovered the Cachaças from Germana online, but only available in the United Kingdom. Even, when I was not able to try them I still was very intrigued. Naturally, I was very glad to hear that Sucos Do Brasil started importing this special brand of Cachaça at the beginning of 2016. This means that five different styles of artisanal Cachaça rapped in banana leafs are now available in Germany. The protfolio ranges from the Germana Classica an unaged style of Cachaças, over ones aged in French oak like the Germana Cachaça Da Palha and Cachaça aged in Brazilian wood like the Germana Umburana. The reason why this Cachaça was rapped in leafs is that traditionally it was transported on the back of a mule. So, the banana leaf rapping was just a way to prevent the good Cachaça bottles from breaking.
All done by hand
First, let us take a closer look at what Cachaça really is: It is like rum, made out of sugar cane, but it has to be distilled and bottled in Brazil to be called Cachaça. Moreover, only fresh sugarcane juice is used for the mash. In case of Germana Cachaça the sugarcane comes from 15 ha of their own fields which are cultivated without the use of any pesticides. Also everything, from the sugarcane harvest to the bottling is done by hand. For the fermentation which occurs naturally and takes 14 h – 24 h, a small amount of corn is added to the mashbill to get everything going. After that the mash is distilled once to an ABV of 52 % – 54 % on a directly fired pot-still. Only the Coração which means the heart of the distillation is used for the production of Germana Cachaça. The heads and tails are discarded. As already mentioned all sorts of wooden barrels are used for the aging of the Germana distillates, amongst them used whisky-barrels, French wine and cognac barrels or even Sherry casks. Still, a small amount of Cachaça is also aged in barrels made out of Brazilian wood, like Bálsamo and Umburana. Though, Bálsamo barrels are only used for finishing.
What Germana Cachaça is all about
Second, let us see what Christian Wurm has to say about his passion for Brazilian products and Germana Cachaça. The interview was done in German and I took the liberty to translated it in English. You can download the original interview in German here.
MJM: Mr. Wurm, what brought you to importing Brazilian products and Cachaça in particular?
Mr. Wurm: Family relations, connections, to Brazil and culinary arts
[Editors note: In the 80s Mr. Wurm began in the gastronomy sector and started the first imports of Brazilian goods in the 90s. Apart from that, he also has family in Brazil who he visited frequently starting at an early age.]
MJM: What is your favourite Cachaça based cocktail?
Mr. Wurm: Ginger Caipirinha
MJM: Where do you see the potential of premium Cachaça in Germany?
Mr. Wurm: Within the upscale bar szene – in other words in top bars;
Furthermore, Cachaça is also able to partake in the positive development of rum. Cachaça is diverse both in taste and its application. It also manages to convince on its own in top gastronomic establishments. With our brands germana or VELHO BARREIRO which we are both representing here in Germany we can provide different qualities and ageing stages for our customers. This way we can meet the needs and different requirements of bars and gastronomy.
MJM: What was the main reason for you to import Germana Cachaça?
Mr. Wurm: Quality, layout and good brand awareness
MJM: Can you tell us some details about the production of Germana Cachaça?
Mr. Wurm: Germana Cachaça is a high quality handmade product. All production phases, ranging from the sugarcane harvest to the bottle labelling, are solely done by hand. Germana is one of the most prestigious amongst artisanal Cachaça and one of the most popular varieties. The ageing in selected oak barrels and the strict quality control done by the "Master Blender" puts Germana Cachaça next to the best distillates in the world. Germana Cachaça is a true gift for the individual tastes.
MJM: So, which of the different Germana Cachaças is your favourite?
Mr. Wurm: Difficult to answer – because germana offers different qualities for every requirement and tastes.
For example, let us take a look at the Cachaça Ultra Premium germana Clássica. It is a young, crystal-clear Cachaça with a refreshing and mellow taste. germana Clássica rests in stainless steel barrels and is not charcoal filtered. This way its nativeness, the full aroma and every feature of a precious Cachaça are preserved. germana Clássica is perfectly suitable for Caipirinhas and other cocktails as well as ice-cold for neat sipping. Precisely the right Cachaças for my taste!
MJM: Is there still enough sugarcane flavour left in the older Cachaça qualities after a partial aging period of ten years in a tropic climate?
Mr. Wurm: Yes! Especially, those old Cachaças are ideal for enjoying them on their own! The sugarcane flavour is clearly maintained.
MJM: And as a last question: Are planning on importing more Brazilian products?
Mr. Wurm: At the moment we are well-positioned. So, not now, but who knows what will happen in the future? We are constantly searching for new, special products. In the future, we will definitely not be able to resist an outstanding Cachaça ….
[Editors note: Sucos Do Brasil already announced that they will start importing a Peruvian gin and a Mezcal in April.]
MJM: Thank you for your time and your answers to all of my questions!
So, what does Germana taste like?
Third, bellow you will find my tasting notes from the two samples I was able to try. The first one was the Cachaça da Palha which is aged in French oak for two years and then bottled at 43 % ABV. This Cachaça already managed to receive quite an impressive amount of awards and it would take too long to list them all. The second style of Germana Cachaça I tasted was the Germana Brasil, which is also aged in French oak casks. Yet, it spends five whole years in the barrels, before being bottled at 43 % ABV, too.
| | |
| --- | --- |
| | Germana Cachaça Da Palha |
| Alcohol: | 43 % |
| Price: | 48 € per litre |
| Appearance: | Straw, slow tears, small windows |
| Nose: | Vanilla, cinnamon, vegetal notes, slightly smoky |
| Taste: | Grasy, vanilla, slightly sweet, exotic fruits, little bit of menthol |
| Aftertaste: | Long, with spices like green pepper |
| Rating: | |
The Germana Cachaça Da Palha obviously is not your average Cachaça to just throw into your Caipirinha. Although it definitely would make a great one. All in all, it is rather complex with a nice mix of green sugarcane notes and oak spices. Apart from that, it is almost as smooth as to sip it neat. Yet, my first run at mixing this would be in a sour together with lime juice and agave syrup served straight up.
| | |
| --- | --- |
| | Germana Brazil |
| Alcohol: | 43 % |
| Price: | 70 € per litre |
| Appearance: | Amber, very slow tears, medium sized windows |
| Nose: | Cinnamon, fruity, sugarcane, fresh cut grass, spices |
| Taste: | Smooth, vanilla, caramel, cinnamon, sugarcane and vegetal notes, whiff of mint and hot pepper |
| Aftertaste: | Again long with spices, black and green pepper |
| Rating: | |
In direct compression between the two year old Germana Cachaça Da Palha and the Germana Brazil the first thing you will notice are the more pronounced oak notes. There is much more caramel, cinnamon and vanilla lingering in the sip of this Cachaça. Still, the barrel flavour does not overwhelm the still noticeable sugarcane notes, which are represented by a fresh and graslike, almost vegetal flavour. All of this makes the Cachaça very interesting on its own, or just perfect for experiencing those unfamiliar flavours in an Old-Fashioned. Both Germana Cachaças are undeniably worth a try and showcase that this Brazilian spirit can be much more than watered down with crushed ice and sugar!