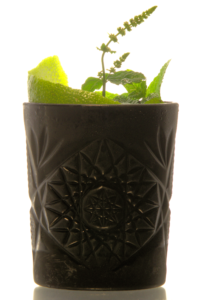 I know that Mezcal is not the latest trend amongst bartenders and cocktail aficionados. I myself also have tasted a fair amount of it so far, but still most of Mezcal cocktails I mixed so far were twists on classic recipes. This is why I thought it was time for my own, new Mezcal cocktail! Since, this is also a recipe for my birthday party it is a highball style drink, too. However, there is one more than surprising ingredient in this recipe and no, I am not talking about salt!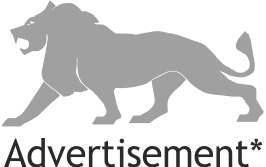 On worms and agaves
One rumour people who have even heard of Mezcal are familiar with is that Mezcal includes a worm. Which is wrong in more than just one way: First, the insect is not a worm, but the larva of a moth instead and also not all Mezcal includes this "larva". I would even go as far as to say, that high quality Mezcal, does not include any larva or other insects for that matter. One fact that is actually true is that Mezcal is made from agave hearts called Piñas. I already wrote quite a bit on Mezcal after visiting a Mezcal tasting in Munich last autumn, so there you will find all the information on how Mezcal is made. The San Cosme Mezcal has somewhat become bartenders favourite when it comes to this smoke agave distillate. Not only is it quite complex and not overpoweringly smoky, but also it is rather fairly priced. Since I skipped so long on this go to Mezcal I thought I would give it a try in my new highball style drink. The San Cosme Mezcal is distilled from Espadin agave variety in the small town of Santiago Matalán.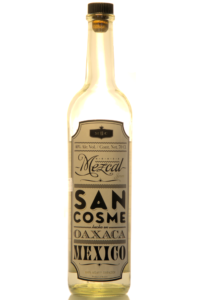 | | |
| --- | --- |
| | San Cosme Mezcal |
| Alcohol: | 40 % |
| Price: | 43 € per litre |
| Appearance: | Clear, medium sized windows, slow tears |
| Nose: | Smoke, some glue, citrus notes, agave, whiff of menthol |
| Taste: | Glue, agave, hint of smoke, slight sweetness, fruity, apples |
| Aftertaste: | Medium long, glue, some smoke |
| Rating: | |
As described earlier the San Cosme is a great combination of fruity agave notes and smoke. It is certainly enough to make give it a completely different character than tequila, but not too much to overwhelm you with a ton of umami smokiness. Therefore, you can just substitute the San Cosme in any number of tequila cocktails, classic or otherwise and it will work. This certainly is not the case with every Mezcal out there. However, this also means that when sipping the San Cosme neat, it will lack the last bit of complexity it could have. It is nice on its own and great to introduce people to Mezcal, but I would not pour myself a glass in front of the fireplace… That being said, let us carry on to the cocktail I came up using the San Cosme.
A drink (and song) like a tornado
The "Fractured Air" was inspired by a cocktail I found on the Star Chefs' photo gallery called the 1760. I draw a lot of inspiration from the Star Chefs website, especially there pictures are just perfect and make you instantly crave the individual cocktail. In this case, the 1760 basically is a Gin Tonic variation improved with Mezcal, Cocchi Americano, cumin and mint to spice things up. I took Christopher Longoria's drink just as a slight inspiration and left out the gin, cumin and Cocchi Americano and replaced it with a little paprika eau de vie. Yes, you read right paprika eau de vie! By now you should know that I have a thing for eau de vies and not only for the ones made out of fruits. There is also a growing amount of vegetable eau de vies out there who are worth a try! Apart from that, I added a little agave syrup, lime and just a pinch of salt to the mix. The agave syrup is there to balance the drink, while the lime makes it more refreshing and the salt adds a little bit to the complexity of the drink.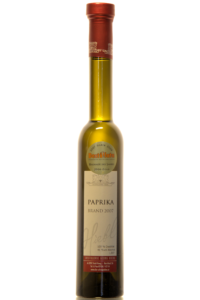 | | |
| --- | --- |
| | Hiebl Paprika Eau De Vie |
| Alcohol: | 41 % |
| Price: | 118 € per litre |
| Appearance: | Clear, medium sized windows, slow tears |
| Nose: | Sweet notes, earthiness, sweet paprika, citrus notes, chilli peppers, vegetal notes |
| Taste: | Sweet paprika, citrus notes, fruity, some hot spices, mint, vanilla, umami |
| Aftertaste: | Long with sweet spices, earthiness and yellow paprika |
| Rating: | |
sAs I already pointed out in previous articles on eau de vies, the distillates made by Georg Hiebl are as good as eau de vies can get! Naturally, this is also the case with the paprika eau de vie. Even with its quite big price tag it is absolutely worth a try! The paprika taste is noticeable but not pungent and there is also so much more going on! The eau de vie's taste ranges from fresh lemon and mint notes to Mezcal like earthiness with a whole bunch of spices in between.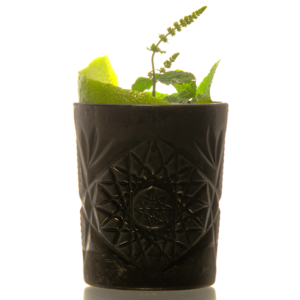 1 Dash Saline Solution*
1 Sprig Mint
Top off with Fever Tree Tonic Water
Spray Hiebl Paprika Eau De Vie on top;
Add all the ingredients except tonic water to mixing glass – stir to combine – add mint sprig and ice cubes to Double Old-Fashioned glass – fill half with tonic water – strain drink on top – spray with some more eau de vie;
Garnish: Mint Sprig – Lime Twist;
Song: Calexico – Fractured Air
*Mix two tablespoons salt with water and bottle in a droper bottle
Before taking the first sip of the drink you will notice an interesting combination of aromas. There are of course notes from the Mezcal, but also mint, lime and some vegetal notes from the paprika eau de vie. With the first sip the Mezcal takes over and shows its powerful smoke and glue flavours, but still the paprika eau de vie is not overpowered. Instead it adds a complex layer of earthy spiciness to the highball. Towards the end of the taste there is a lemon and lime taste and also a hint of bitterness from the tonic water. All of this leads into an almost endless aftertaste, with again a lot of smoke and umami notes. Nevertheless, this is quite different from a Gin & Tonic, which of course is also not surprising giving the very different elements contributing to this compelling drinking experience!
*The fact that I received a product reviewed in this article for free, did not – in any way – influence the rating of said product.