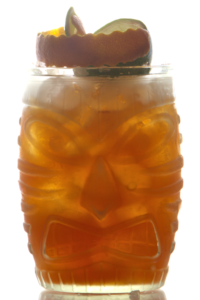 Well, the next cocktail in this years Tiki month is more or less a product of chance. Some time ago I was inspired by another drink to infuse red vermouth with chai tea, but at this instance I did not think about using it in a Tiki cocktail. However, when I pondered on which drink to create using the Plantation Rum Jamaica 2002 I luckily remembered the chai vermouth. Of course, there is also a great variation of other liquors in this, so it deserves to be called a Tiki drink!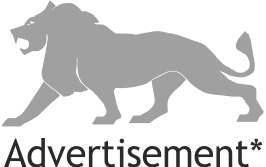 In contrast to a lot of the other Plantation rums I have introduced to you so far, the Jamaica 2002 is a single origin rum. This means that the rum only comes from Jamaica where it spends ten years in used Bourbon barrels. After that it is shipped to France where the rum is again aged for three years in small ex-Cognac casks made from French oak. This process is typical for all of the Plantation Rums and it is also the reason why you will not find out from which distillery Ferrand sources their rum.
In contrast to the Plantation O.F.T.D. the Jamaica 2002 has less powerful ester notes. Yet, they are still clearly noticeable and atypical for a Jamaican rum. There is also a certain sweetness in the sip, which makes this Plantation rum go down very smooth. Of course, rum nerds will be a little bored by its taste, but for me the Plantation Jamaica rum has one of the best compromises between flavour and smoothness you will find with Jamaican Rum. Apart from that, there are also a lot of fruity flavours reminding me of fresh apples and pears. I guess the only other thing to tell you is that it also makes excellent Mai Tais. If you like you can even add a little unaged rhum to the mix, to add a bit of freshness.
A Tiki-tea cocktail
As already mentioned in the introduction I wanted to use vermouth with the additional chocolate and spice notes of chai for a long time. However, until now I did not find the right ingredients to pair it with. Also, I cannot quite explain why I ended up with this exact mix. There was an early idea which included just two rums, crème de cacao and grapefruit juice I scribbled down in my notebook. Then after a while I replaced the créme de cacao with the Elixir rum liqueur, added a third rum and omitted the grapefruit juice. I guess, sometimes recipes randomly develop and evolve on paper or when trying them the first time. This is also the case here.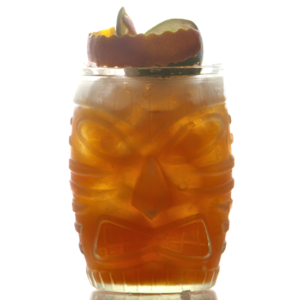 1,5 cl Plantation Rum Jamaica 2002
1,5 cl Plantation Rum O.F.T.D.
1,5 cl Plantation Rum Pineapple Rum
1,5 cl Legendario Elixir Rum Liqueur
0,75 cl Luxardo Sangue Morlacco Cherry Liqueur
4,5 cl Chai Infused Cocchi Vermouth Di Torino
4,5 cl Blood Orange Juice
0,75 cl Sugar Cane Syrup
Shake – strain – chilled Tiki mug over ice;
Garnish: Lime and Blood Orange Twist;
Song: Frank Turner – Balthazar, Impressario
The more or less random variation of ingredients with this drink was not such a bad thing at all, because I ended up with a very complex and delicate cocktail! The mix of rums blend together perfectly and the only things you can explicitly work out are the ester notes and a slight hint of dried pineapples. Apart from that, the main flavour in this drink is mix of the aforementioned chocolate and spice notes from the chai together with a hint of red wine. The blood orange juice is again there to bind the different flavours together and keep the drink from being too sweet. Of course, it does not hurt either to have something over than booze in a cocktail!
*The fact that I received a product reviewed in this article for free, did not – in any way – influence the rating of said product.