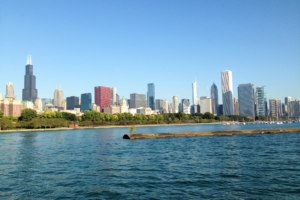 My recent business trip not only lead me to the charming town of Denver, but also to Chicago. After London, it is the second biggest city I ever visited. Therefore I was a bit nervous, but again I had a plan where to find great food and drinks. So, here are the places I have visited in the "Windy City".
On my first night in Chicago I just went around the block to a Lou Malanti's pizza place to try the famous deep-dish pizza. Basically, it resembles more a savoury pie than an actual Italian style pizza. Nevertheless, it was good and quite the experience. You should try one of these if you ever visit Chicago! The only other thing I did on my first night was shopping at Binny's, a liquor store which will set the heart of every spirit connoisseur racing! My choice fell on an A.D. Laws Secale Rye Whiskey from Denver and some bitters which are hard to get at home.
The next day I planned a visit to the Big Star restaurant and the neighbouring Bar Violet Hour in Wicker Park. Yet, it turned out you absolutely must reserve a table at Big Star beforehand. There was an enormous line in front of the restaurant. However, Big Star also has a take-away taco stand and I just order some chicken tacos there. They were really good with a lot of fresh cilantro on top. Moreover, their homemade lemonade is also very delicious!
The Violet Hour itself at first is a little hard to find: Exactly opposite of Big Star you will find a windowless building with wooden art-work on a wall painted lilac. You have to put two and two together to realize that this is supposed to be the bar. When you want to enter, you will have to wait on the side towards Damen station until the doorman opens the door for you and checks your IDs. On top of that, the Violet Hour has very strict rules: For instance, you have to take of baseball hats and they also do not allow party add-ons.
Inside, the Violet Hour is decorated the style of a modern ball-room, with a stuccoed ceiling and heavy curtains. The bar runs along one side of the room, while very high club chairs are standing together in pairs in the middle of the room. I had the "Gold Star" cocktail a refreshing combination of Cynar, J. Rieger Whiskey, apricot liqueur, lime and Demerara syrup. Because, the tacos were not too much I also order roasted nuts, which were a mix of almonds and hazelnuts with Cayenne pepper, paprika, oregano and sugar. Both, the drink and the food were excellent, but with its strict rules and rather dark setting the Violet Hour comes off as a little bit cold.
After a cliché tourist program on Saturday (Buckingham Fountain, Millennium Park, Navy Pier, John Hancock Centre) I decided to make just one stop for dinner and drinks afterwards. Again, because of Star Chefs I choose Sable Kitchen & Bar. Sable is located in the Kimpton hotel, but has a separate entrance, which in my opinion is a must for Hotel bars. Inside you will find a modern decor with a great selection of food, drinks and spirits. My choice fell on the cauliflower steak, which came with barbecue sauce, golden raisins and Napa cabbage cole slaw. To go along with the food I had a Pilsner from Chicago's Baderbräu.
After dinner, I switched to the bar and ordered a "Good Luck And Good Night". This Manhattan variation combined High West Double Rye, Carpano Antica, Amaro di Angostura, Tempus Fugit Cremé de Cacao and Bittercube Jamaican Bitters. For a night cap I also tried a selection of different bourbons, including E.H. Taylor Small Batch and 1792 Ridgemont Reserve Bourbon. The former was spicy, with menthol notes and a lot of corn, while the latter was smoother with quite a bit of caramel and vanilla.
Of course, you cannot give a comprehensive overview of Chicago's eating and drinking scene in just three nights. However, what this article can do is give you a few tips on where you might start your discovery of the "Windy City"! I definitely have to come back and visit all the places I missed the first time.