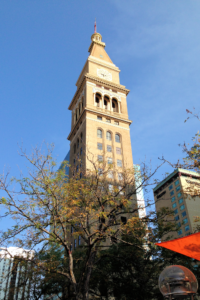 My first trip to the US took me to the foot of the Rocky Mountains instead of one of the big towns on the East or West coast. I am glad, that it did, because as it turns out you can eat and drink exceptionally well in Denver. Consequently, this article is about going out in the "Mile High City".
Before my visit to the States I informed myself about where to eat and drink in Denver via Thrillist and the excellent photo gallery on StarChefs. Besides great inspiration for drinks, StarChefs always provides pictures of bars, breweries, coffee roasters, distilleries and restaurants for every major city in the US and even some abroad. So, I came up with a plan and even manage to stick to it mostly.
After the long-distance flight I was very exhausted on my first night in Denver, but nevertheless I pulled myself together and went out. My choice for dinner fell on Dio Mio, a modern pasta restaurant. They are famous for their homemade pasta and this is exactly what I ordered. After the noodles I had on the plane, which should not even be allowed to call themselves pasta, the fettuccine with black pepper and parmesan at Dio Mio were like heaven! To go with it, I had a light and very refreshing white wine from Casal Garcia.
After dinner, I just went down the street, passing a winery (?!) and sat down at Bar Fausto. This classic cocktail bar with a modern twist has rows of liquor lined up behind the bar and also a great Amaro selection. After consulting the more than friendly bartender my choice fell on the #64. This combination of E.H. Taylor Small Batch Bourbon, unaged Tariquet Armagnac, Strega and Peychaud's Bitters was just perfect for a (early) night cap.
4,5 cl E.H. Taylor Small Batch Bourbon
2,25 cl Tariquet White Armagnac
2,25 cl Liqoure Strega
1 Dash Peychaud's Bitters
Stir – strain – chilled Old-Fashioned glass over large ice cube;
Garnish: Lemon Peel;
The next day, I went to Avanti after the welcome reception at which I had a great local Amber Lager. Avanti has an interesting concept: You order your drinks with a waiter and then get your food at one of the seven different kitchens. I took the house-cheeseburger which includes a grass-feed beef patty. It was just the right thing to have, after a mini-burger at the reception and accidentally biting into a crab-burger.  – I do not like anything that comes out of the water, except algae. –
Next I wanted to visit Williams & Graham, probably the most famous bar in Denver. However, after reserving a seat via phone from Germany did not work, I had to wait for half an hour, before I could get in. During that time I had another local pale ale at the neighboring bar Postino, which has a great beer and wine selection.
When I finally managed to grab a seat, Valerie one of the most awesome bartenders I ever met, made me a spirit-forward Boulevardier variation. It consisted among other things of Knob Creek Single Barrel, Cynar and Campari. Forgive me, but my memory is a little fussy, because the "Boulevardier" was followed by a Hanky Panky and an Old-Fashioned variation also including Knob Creek Single Barrel. What I do remember though is the great night I had with Valerie entertaining the whole crowd at the bar!
After that evening I took it slow the next days, but not without following up on a tip of the Bar Fausto's bartender. So, on my final-to-last evening in Denver, I went to Union Lodge No. 1, which may just be best pre-prohibition bar I ever been to.
My first drink that night was a "Saratoga", a "lighter" Manhattan variation including Rittenhouse Rye, Pierre Ferrand Cognac, Carpano Antica Formula Vermouth, Angostura, Peychaud's Bitters and Benedictine. On top of that, the latter three ingredients were also barrel aged together. Next I tried a sip of Old Forester Bourbon exclusively bottled for Union Lodge and as a night cap I had a bartender's choice Amaro cocktail. This chocolatey concoction consisted of Averna, Bigallet Viriana China-China, S'Fumato, dry Tio Pepe Sherry and Bitters.
3 cl Rittenhouse Rye Bottled In Bond
3 cl Pierre Ferrand Coganc
3 cl Carpano Antica Formula Vermouth
3 Dashes Barrel Aged Angostura, Peychaud's and Benedictine Mix
Stir – strain – chilled Old-Fashioned glass over large ice cube;
Garnish: Lemon Peel;
All in all, I had a great time in Denver which is a city you should not overlook! You would be missing out on a lot of friendly people, nice drinks and great food!
Next up is an article on my next stop during my travels. So, get excited on a review of Chicago's bar and drinking scene!