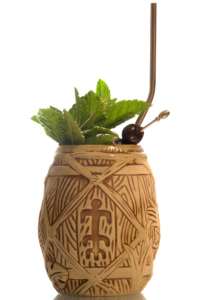 As mentioned in the article on the Red Dust cocktail, Plantation Rum has a new philosophy, when it comes to providing information about their rum. This is also the case with this rum from a rather unusual island. It comes from Fiji, an island only known by experts for its excellent rum. Apart from that, the cocktail I created using the rum gets us in the mood for the upcoming cherry eau de vie blind tasting.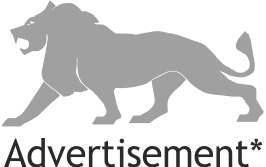 The Plantation Fiji Rum comes from the South Pacific Distillery and is fermented for four to five days. The distillation of the molasses based mash takes place on pot- and column stills. Similar to its Peruvian counterpart, this vintage edition rests in its country of origin in 200 litre bourbon casks for seven years. After that, it is brought to France and filled into 350 l cognac barrels for two years. No sugar is added to this rum after ageing.
To be honest, the headline for this section is not really true: There are a lot of ester notes in the aroma and sip of this Fiji rum reminiscent of Jamaica. However, they are different form the typical Jamaica rum note. The ester notes are less aggressive and shift more towards red berries and less to overripe bananas. Apart from that, there are the regular rum notes of vanilla and caramel. This is also accompany by an underlying dry smokiness. Again, this is a perfect example of a well composed rum by Plantation's Alexander Gabriel.
Inspired by a muffin recipe
Originally, I had other plans for the Plantation Fiji. I wanted to create an Artist's Special variation using black currant jam. Yet, we made some chocolate and cherry muffins for out cherry eau de vie tasting. This gave me the idea of transforming the recipe into a cocktail. In the end, the combination consisted of rum, sour cherry eau de vie, an excellent almond liqueur, chocolate bitters, sour cherry juice, lime and vanilla syrup. For optical reasons and a little freshness, I opted for a mint spring garnish. The now defunct Mozart Chocolate Bitters can be replaced by twice the amount of Bittermen's or The Bitter Truth Chocolate Bitters.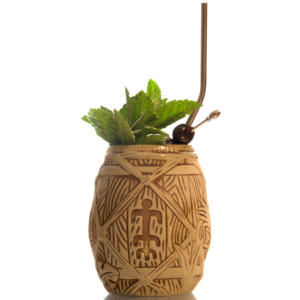 3 cl Plantation Fiji 2009 Rum
3 cl Plantation Peru 2004 Rum
1,5 cl Vallendar Sour Cherry Eau De Vie
0,75 cl Nardini Mandorla
3 cl Sour Cherry Juice
2,25 cl Lime Juice
1,5 cl Vanilla Syrup
1 Dash Mozart Chocolate Bitters
Swizzle – chilled Tiki mug – crushed ice – dust icing sugar on top;


Garnish: Mint sprig – icing sugar – three brandied cherries;
Song: The National – Cherry Tree;
The resulting drink is a very fruity, clearly Tiki inspired mix. The chocolate bitters, the rum and the cherry flavour are the first things you will notice about this cocktail. Afterwards, the sensory impression is accompanied by almonds notes and a noticeable, but refined sweetness. In the aftertaste, the slight smokiness of the rums makes itself know again. While this cocktail appears to be very refreshing, it is also quite powerful. You definitely do not want to underestimate this drink!
*The fact that I received a product reviewed in this article for free, did not – in any way – influence the rating of said product.