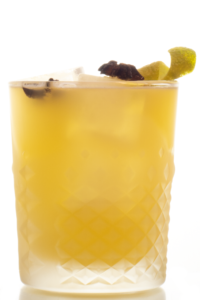 On our recent trip to Greece, I of course had to bring back a bottle of booze. While my eye was not set on any particular spirit, the choice fell on the Barbayanni Blue Label Ouzo. While ouzo is not hard to find in Germany at all, mostly cheaper bottlings are bought. This is why I was curious to try a high quality ouzo like the Barbayanni.
Of course, when talking about this Greek spirit, you have to keep in mind that it has a powerful anise flavour. Luckily, as with absinthe, I quite enjoy anise and therefore can approach things with an open mind. The Barbayanni distillery on the island of Lesbos distils Greek spirits since 1860. The founder Efstathios J. Barbayannis brought the knowledge of distilling from the city of Odessa. To produce their ouzo Barbayanni use aniseeds, which are harvested when they are full-ripe and carefully dried. Afterwards, the seeds are separated from their stems. As a base alcohol pure ethyl alcohol made from raisins is used. The mixture of alcohol and botanicals is then distilled three times, with only the heart of the first distillation run being reused. On top of that, also just the middle run of the last distillation is used for ripening in stainless steel tanks. The Blue Label Ouzo is watered down with mountain spring water from Plomari and bottled at 46 % ABV.
As it should be with an ouzo, the Barbayanni Blue Label is clearly dominated by its aniseed flavour. However, beyond that there is a slight hint of cooling menthol and mint. After the strong spicy note settles down a bit, you can notice slightly more delicate floral and citrus notes. Yet, when it comes to tasting it, the Barbayanni delivers a ton of aniseed. Apart from it, it has a powerful hot spice and menthol note, which makes drinking it neat at room temperature slightly less pleasant. Nevertheless, the ouzo is quite balanced with no cloying sweetness.
For I drink I stuck to the principal of "what grows together, goes together". On top of that, the Greek spirit gave me the perfect excuse to use one of my favourite herbs. I just love the taste of Greek Mountain Tea! It is also called sideritis and you can not only drink it as a tea, but also use it for cooking, or in my case in a cocktail. This is why I decided to use the Good Night And Good Luck Cocktail as a base and just change a few ingredients. – Ok, in the end I changed all of them, but for the lemon juice, nevertheless the inspiration definitely came from that drink.
6 cl Barbayanni Blue Label Ouzo
3 cl Lemon Juice
5 cl Cold Greek Mountain Herb Tea
2,25 cl Greek Pine Honey Mix (2:1)*
Shake all ingredients – strain- chilled Double Old-Fashioned glass over ice;
Garnish: Star Anise – Lemon Twist;
Song: Nick Mulvey – Mountain To Move
*Greek Pine Honey Mix:
Mix two Parts Honey with one part warm water – stir until honey is dissolved – bottle in clean, boiled out bottle – keep for under one week;
Similar to the inspirational cocktail the "Mountain To Move" is a very balanced cocktail. Sure, you taste the anise of the ouzo, but it is very well incorporated into the sweet and sour base of the cocktail. The mountain herb tea does the rest to keep the ouzo from overpowering the other ingredients and also lends a deep herbal backbone to the drink. You can even taste the honey lingering in the back of the sip. If you like aniseed flavour, you should give this drink a try!