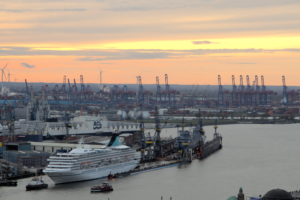 In contrast to my trip to the States, I did not have to travel that far for this new report. Nevertheless, it is about a city every bit as interesting: Hamburg, also has many culinary delights to offer! Besides having great coffee, food and drinks, we also visited another gin distillery!
However, let us start chronologically. When we arrived in Hamburg we first went shopping. This left us craving for a god cup of coffee! Yet, we were stuck in the Hanseatic city's worst tourist zone. So, the Café Paris was our only hope for a quality cup! Luckily, we also enjoyed a good cappuccino and cup of tea. On top of that, you should definitely try their tarts!
Great burgers and drinks
In the evening, we went for high quality burgers at the Brooklyn Burger Bar (BBB). It does not really matter which burger you order from the menu, because all of them are delicious! Of course, the pulled pork burger still is a highlight, especially when paired with an ice-cold draft Pilsner Urquell. Nevertheless, their plain cheeseburger with simple fries is a great choice, too.
Still one of the best bars in Hamburg!
Another great thing about the BBB is its proximity to the Le Lion. You literally just have to walk up the street, take a left turn and you are there! We enjoyed an Antica Torino Smash and a Deshler Cocktail. The latter is a spirit-forward combination of rye, orange liqueur, Dubonnet and bitters. It is named after a lightweight boxer from the 1920s. For a nightcap we chose a Poire from Eric Bordelet, which basically is the champagne of sparkling wines made from pears!
On our second day, we went to the Elbgold coffee roasters for breakfast. This is another place you must visit when you are in Hamburg! It might just be the best place to get breakfast and coffee in the city. The highlights are their backed goods, bagels and also their Classico espresso blend. It consists of 60 % coffee beans from Brazil and 40 % from Guatemala.
Fine food and German wine
After we spent Sunday sightseeing we had a lunch at Neni at the Altes Hafenamt. This oriental inspired multi-national restaurant is not only beautifully decorated, but also has a great selection of exotic Middle Eastern cuisine. For dinner we had a reservation at another great restaurant: Witwenball, a wine shop / restaurant, has a clear focus on high-quality food and German wines. We had Tagliatelle with truffles and thyme as well as an original Wiener Schnitzel made from veal with roasted potatoes and cucumber salad. The accompanying wines were a Riesling sparkling wine from the Von Buhl winery, and two different Grüner Veltliner wines. For dessert we had the Créme Brulée with Figs and a chocolate brownie. The Riesling Auslese from Marcus Molitor was also a perfect fit here.
Room with a view
For after dinner drinks, we went to the 20 Up Bar in the Empire Riverside Hotel. The view there really is astonishing. However, the drinks were good, but lacked a bit of attention to details. Yet, if you want a great view over the harbour it is the right place to go!
Tea, gin and more coffee!
The next day we went shopping for tea at the Samova tea shop in the Gänsemarkt passage. You should check out their selection online! Afterwards, we took the bus to the Gin Sul distillery. The small distillery is located in Altona is very beautiful and their new shop has a great selection of bar related accessories to discover besides gin. During the production of the gin, they macerate all of their botanicals in alcohol, but also add lavender, lemon and rose petals to the still itself. In the afternoon, we had again coffee at the North Coast Coffee Roastery. The cappuccino I had was great with nice chocolate and roast aromas.
Perfect local food!
On our last evening, we went for dinner at Trific. This great restaurant which serves locally grown food is located near the Speicherstadt. Everything they have on the menu is something familiar, but served with an unexpected twist. Again, we had great accompanying wine: A Franconian Silvaner from the Weigand winery and a Pinot Gris and we were also very happy with out choice of food: On the one hand, the mussels in a white wine – vegetable stock were plenty and unusually combined with homemade fries. On the other hand, my combination of turnips with mountain cheese polenta and crispy kale, might not sound very special, but tasted excellent!
Last but not least, we had the Chug Menu at this year's best German bar awarded by the Mixology bar magazine. The Chug Club at the outskirts of the Reeperbahn serves small cocktails, called "Chugs". The menu consists of five different Chugs and a beer. The highlights from the tasting flight were a clarified milk punch, and a tequila drink with an espuma as well as gold flakes on top. If you like tequila and are looking for an relaxed evening the Chug Club is just the right bar for you! Apart from that, the Chugs are a great idea and more bars should other something similar!