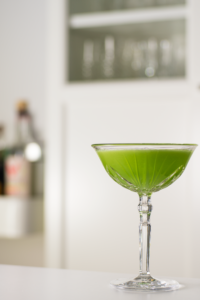 What do you do when you have a mezcal and a matcha liqueur on hand? Well, you mix yourself a Mezcal Match Margarita, or in short a Triple M (working title) cocktail. Especially, when the mezcal is a vegan version of pechuga mezcal. This means that instead of a chicken, an agave heart and fruits are suspended in the still.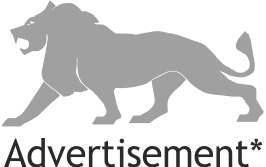 Leonel Hernández also known as Don Gil produces mezcal in the third generation. The Local Mezcal is produced in San Pablo Villa de Mitla from ten-year-old Espadin agaves. Before fermentation the cooking of the agaves takes place for three days in an earth oven with oak, pine and river stones. After grating the agave hearts in a Tahona, the fermentation takes 10 days in wood vats. During distillation agave hearts, apples, peaches, bananas and oranges are included in the copper still for the double distillation process. The mezcal is bottled at 42 % ABV in a bottle made from recycled glass.
Fruits and smoke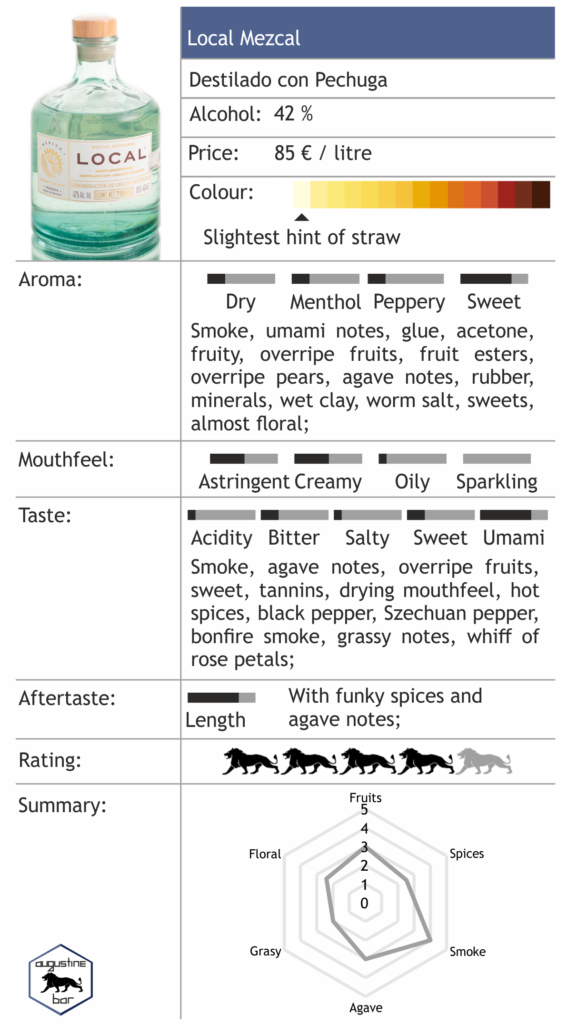 The Local Mezcal at first glance is a pleasant representative of its kind. The smoke is not too overwhelming and there are a lot of agave as well as overripe fruit notes. However, it also has Szechuan pepper like qualities which means that it numbs your gum a bit when you take a big sip. Besides that, you also get rewarded with a certain minerality, hints of rose petals and even some bonfire smoke flavours I normally do not find in a mezcal. All in all, it is a good entry into the world of mezcal without being too soft.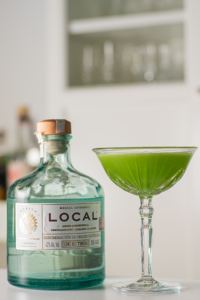 I guess it just was intuition that I combined the Suntory matcha liqueur with the mezcal. For the liqueur Suntory uses supreme matcha, the highest quality of matcha tea. The liqueur is quite sweet with a mix of matcha and vanilla notes. You also get a hint of brandy in the aftertaste. Apart from that, vanilla and brandy complete the recipe. The rest of the recipe is pretty straight forward, just lime juice and agave syrup to round out the flavour. First I wanted to simply name the cocktail Triple M, but when I heard the Modest Mouse song and thought of a green banker's lamp, it just seemed fitting.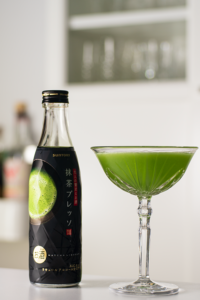 4,5 cl Local Mezcal
0,75 cl Suntory Matcha Liqueur
3 cl Lime Juice
0,75 cl Agave Syrup

Shake – strain – chilled cocktail glass;
Garnish: Lime Twist (no drop);
Song: Modest Mouse – Lampshades on Fire;
Although the cocktail has a dark green colour, the taste is not overwhelmed by the matcha flavour. The taste reminds me more of a regular mezcal margarita with some additional matcha and vanilla notes. The liqueur also rounds out the smoky edges of the cocktail a bit. In conclusion, the "Lampshades on Fire" is smooth, yet complex with a certain smokiness.
*The fact that I received a product reviewed in this article for free, did not – in any way – influence the rating of said product. The mezcal was provided by Fifteenlions and the matcha liqueur by Ginza Berlin.