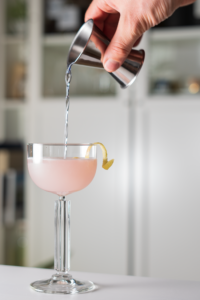 I cannot even remember since when I wanted to participate in the Home Bar Awards. Yet, I never got around to do so. This month's task, to create a Bee's Knees cocktail variation, however seemed too good to pass up on. Especially, when it got my creative juices flowing and I almost instantly came up with a recipe. Partly this was also due to the fact that I had an eau de vie distilled from Sicilian Cedros lying around.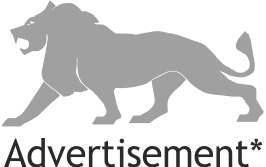 For those of you who do not know it, first a few things about Home Bar Awards: It is a monthly challenge for cocktail enthusiasts founded by Chris Kiertz. Basically, there is a theme with more or less rules and you just have to create a cocktail at home and send in your submission. So, without anticipating too much, with the excellent Mühle 4 Cedro eau de vie on hand, I set out to create a Bee's Knees variation. The Geist von der Zitronatzitrone as it is called in German, is distilled from organic Sicilian cedro lemons. The lemons grow at the foot of the Etna. After ripening, the lemons are transported to the Lower Rhine, macerated in neutral grain spirit and distilled at the Mühle 4 distillery on a Müller AROMAT 150 still.
Complex (almost) gin notes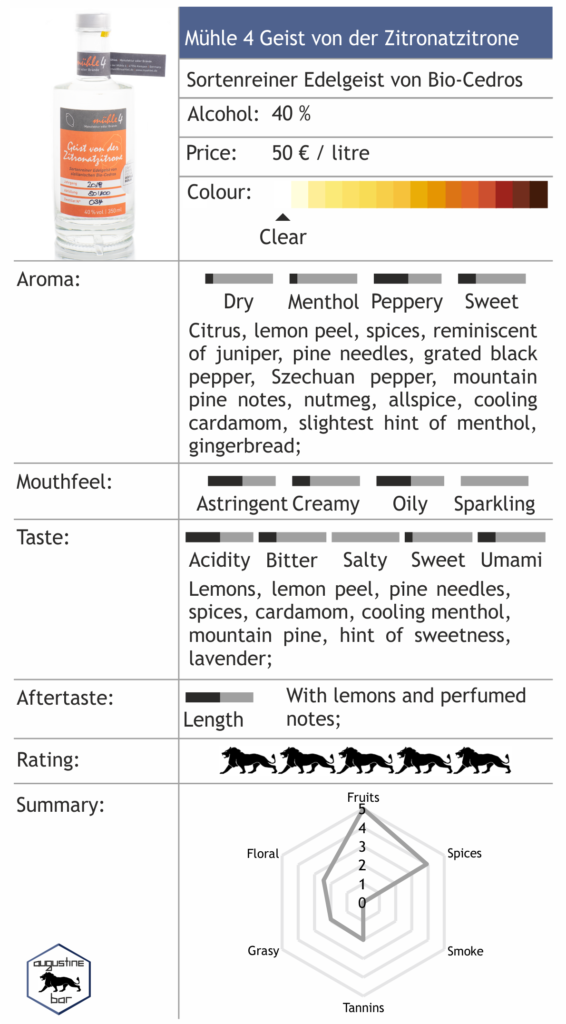 While most citrus eau de vies taste more or less like the individual fruits, it is often difficult to identify complementary flavours. The Mühle 4 Cedro breaks with tha0t rule. I guess you do not have to like it, but everybody has to admit that there is a lot going on in the bouquet and taste of this citrus spirit. In my case, I absolutely love it! The Zitronatzitronen eau de vie almost reminds me of gin, without the juniper note. You can detect herbs and spices in the taste, especially resinous notes. There is a complexity to this spirit which is hard to reach with other citrus fruits.
Colour it up!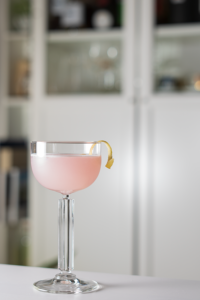 Well, when you have a lovely coloured gin on hand, a great citrus eau de vie and very tasty honey from the fiancé's uncle it is not too hard to come up with a Bee's Knees variation. I have to admit, that I chose the Illusionist Gin mainly for its colour. However, it turned out to be the perfect pairing for the Mühle 4 Cedro eau de vie. The rest of the recipe is pretty straight forward, some citrus juice and a little honey dissolved in warm water. To get the colour changing effect of the butterfly pea flower coloured gin, I thought I shake the rest of the ingredients first and pour the gin directly into the glass. Yet, I was a little underwhelmed by the result. Nevertheless, the taste of the cocktail more than made up for it!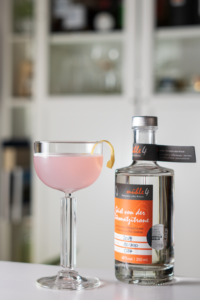 3 cl Illusionist Gin
1,5 cl Mühle 4 Cedro Eau de Vie
3 cl Lemon Juice
2,25 cl Honey Mix

Shake everything except the gin with ice – strain – chilled Cocktail glass – pour in the gin;
Garnish: Lemon Twist;
Song: The National – Wasp's Nest;
The drink really surprised me with its taste! Of course, I expected it to turn out fine, but I did not imagine the combination of flavours working this well. Every sip made you crave the next one. The gin was there, but left also room for the cedro eau de vie. The honey gave the drink a great and complex sweetness and mouthfeel. Last but not least, the lemon juice gave the drink structure and a refreshing sour bite.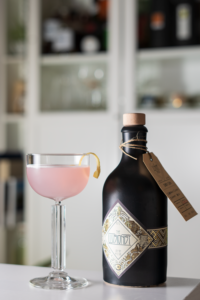 *The fact that I received a product reviewed in this article for free, did not – in any way – influence the rating of said product. The Cedro eau de vie was provided by Mühle 4.