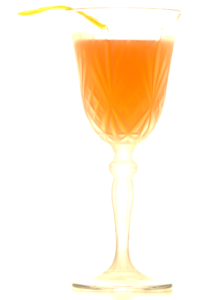 If you are looking for a modern German gin that does not make a fuss about itself, you are definitely well advised to try Heiko Hoo's London Gin. Apart from that, Heiko does not rest and always sets out to create new variations of his gin. Which means that this new Grapefruit Gin is already the third of his products I am presenting to you. Besides his regular gin and his two Reserve Gin bottlings the Grapefruit Gin is actually Heiko's take on a sloe gin and therefore correctly classified as a liqueur.
Similar to the second Reserve Gin bottling I was one of the first people who had the chance to try Heiko's new product. So, you probably will not find it online yet, but Heiko was so kind to provide some information on his gin liqueur. The base spirit for the Grapefruit Gin is Heiko's regular London Gin. Pink grapefruit juice, pink grapefruit peel, lemon balm and sugar are steeped in the gin for two months. Afterwards the solid parts are removed and the liqueur is strained through folded filters. In the end some more gin is added to get the alcohol up to 30,5 % ABV again and then the liqueur is bottled in Heiko's characteristic bottles. However, you are probably wondering what the Pink Grapefruit Gin tastes like, I know that I am!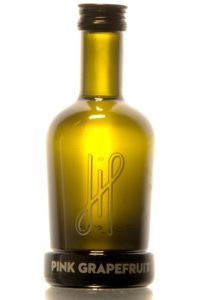 Hoos Pink Grapefruit Gin
Alcohol:
30,5 %
Price:
TBA
Appearance:
Amber, big windows, slow tears
Nose:
Subtle sweetness, juniper, sweet fruits, orange liqueur pralines,
grapefruit eau de vie notes, candied orange peel, resin, fir needles, ginger
Taste:
Sweet, more on the white grapefruit side, some acidity, fir needles, ginger, candied orange peel
Aftertaste:
Very long, with juniper, spices and a slight bitter grapefruit taste which lingers on
Rating:
The funny thing with Heiko Hoos' Pink Grapefruit Gin is that it smells totally different depending on if you are taking a whiff from the bottle or smelling it from a nosing glass. Straight from the bottle you will sense the typical Hoos Gin notes which are juniper, resin, fir needles and ginger. However, when you put the it in a glass, which I strongly recommend doing, more fruity notes emerge with a mix of orange peel and grapefruit eau de vie aroma. When finally taking a sip you will get a nice mix of acidity, sweetness and citrus notes. For me the taste was more on the white grapefruit side of flavours, but that did not stop me from enjoying the nicely balanced taste. There is not too much sweetness and also every aspect of fresh grapefruit is included: From the fresh and slightly sour flesh, over the aromatic peel to the slightly bitter white pith. The only drawback might be that the gin flavour is a little bit suppressed when sipping it. Yet, in the aftertaste it shines through again, which by the way is damn complex!
Not a song, but a movie reference instead!
For a drink I wanted to create a Martini variation suitable for Summer. It just seemed like the right thing to do with the grapefruit flavour. Since, I did not want the drink to be overly sweet I decided to pair the Grapefruit Gin with Heiko's regular gin. To even add more fruitiness and to match the colour of the cocktail with the name I also added a bit of raspberry syrup. The cinema lovers amongst you will instantly know which movie character was the inspiration for this drink! Of course, it is Mr. Pink from Quentin Tarantino's early masterpiece Reservoir Dogs.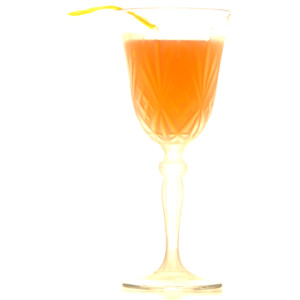 3 cl Hoos London Gin
3 cl Hoos Pink Grapefruit Gin
3 cl Belsazar Dry Vermouth
2 Bsp. D'Arbo Raspberry Syrup
Stir – strain – chilled Cocktail glass;
Garnish: Lemon Twist;
Song: The George Baker Selection – Little Green Bag
While being unmistakably different from a regular Martini, the Mr. Pink manages to deliver a nice coalescence of gin, vermouth and fruity flavours. Especially, the Grapefruit Gin and the fruity vermouth work together very well. I guess I reached my goal, since this drink seems like the right Martini variation to sip on a warm day when you normally would not at all be thinking about ordering a Dry Martini. This also means that Heiko again managed to create a more than harmonious product! Now it might actually be hard to decided which of the three is best… When in doubt just try them all, you will not be disappointed!