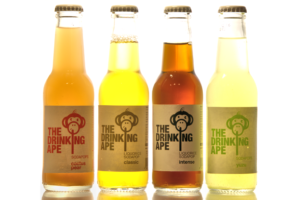 Liquorice, it is one of those flavours which parts nations! Either you love it or you hate it and there is not much left in between. I am counting myself to the first group of people and therefor I was very curious to try the liquorice lemonades made by The Drinking Ape. So, if you are a liquorice lover like me do carry on reading. Yet, if you do not like it at all, The Drinking Ape has something in stall for you, too!
Imagine my surprise when I opened the package from The Drinking Ape and discovered, not only their regular liquorice flavoured bottlings, but also two new ones. Manaf Azmeh the chief executive of The Drinking Ape also included the flavours "Cactus Pear" and "Yuzu" in hi´s delivery. Mr. Azmeh has his roots in Syria and sat out to recreated a liquorice flavoured lemonade he had on the markets of Damascus in the 1970s. As mentioned before I am a big fan of liquorice and consequently I got to work tasting them and creating new drinks right away. The two flavours "Intense" and "Classic" are based on white grape juice which is then flavoured with liquorice and other natural aromas to give them an unique taste. Bellow, you will find my tasting notes and an idea on how to use those two lemonades in a simple highball.
One drink that is actually two drinks
| | |
| --- | --- |
| | The Drinking Ape Intense |
| Alcohol: | / |
| Price: | 6 € per litre |
| Appearance: | Espresso |
| Nose: | Liquorice, anise, fennel, caramel, some sweetness, fresh citrus notes |
| Taste: | Noticeable sweetness, well integrated liquorice taste, again anise, fennel, molasses, caramel, a hint of vanilla and yellow fruits, nice carbonation |
| Aftertaste: | Medium long, with sweet liquorice and spices |
| Rating: | |
| | |
| --- | --- |
| | The Drinking Ape Classic |
| Alcohol: | / |
| Price: | 6 € per litre |
| Appearance: | Copper |
| Nose: | Medium amount of liquorice, grapes, herbs, candy-like sweetness |
| Taste: | Grapes, dry liquorice taste, caramel, whiff of citrus, less carbonation, reminiscent of Haribo liquorice candy |
| Aftertaste: | Medium with liquorice, herbs and a bit of sweetness |
| Rating: | |
I enjoyed both liquorice lemonades, or soda pops as The Drinking Ape call them, very much! Both had a pleasant amount of liquorice taste, with the Intense of course being more powerful and more on the darker side of flavours. Yet, because of their grape juice base the lemonades were multidimensional which means that the candy-like taste was accompanied by a certain fruitiness. Also I like the concept of producing two styles of the same product. This especially plays into the hands of bartenders: It is just the obvious choice to pair the "Intense" with darker spirits like rum and whisky, while the "Classic" is best served with light sprits like gin. So, this is exactly what I did!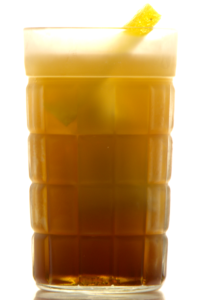 4,5 cl Adnam's First Rate Gin or Te Bheag Blended Scotch Whisky
12 Drops Chartreuse Elixir Vegetal
2,25 cl Lemon Jucie
Top off with The Drinking Ape Classic or Intense
Built – chilled Highball glass over ice – top off with soda pop;
Garnish: Lemon Twist;
Song: Calexico – Two Silver Trees
You can look at this recipe as one, two or one and a half actual recipes and decided for yourself if you want to make one or two drinks. Or maybe you go crazy and mix gin and whisky and top everything off with half of each lemonade. Nevertheless, each drink will be a showcase of how the relatively dominate liquorice flavour can be combined with spirits to make a great highball. Of course, it helps when your base spirit of choice already has some liquorice flavour. Furthermore, when mixing up the variation with Blended Scotch you actually have to take good care of your measurements. Otherwise the scotch, with its smokiness, will overpower the lemonade. If you find yourself in the predicament of not having Chartreuse Elixir on hand, I guess you can just replace it the with a few dashes of absinthe. On to the two new variations of The Drinking Apes Soda Pops then!
What the hell is acerola, calamondin and cactus pear?
| | |
| --- | --- |
| | The Drinking Ape Cactus Pear |
| Alcohol: | / |
| Price: | TBA |
| Appearance: | Pink |
| Nose: | Fruity, figs, hint of watermelon, slight sweetness |
| Taste: | A lot of exotic fruits, figs, red berries, pink grapefruit, mandarines |
| Aftertaste: | Rather long with sweet fruits |
| Rating: | |
This lemonade is actually a combination of acerola, calamondin, cactus pear and blood orange. Besides the very intriguing citrus and exotic fruit flavours this rather unusual lemonade has a noticeable but nice sweetness to it. There are certain parallels to a pink grapefruit lemonade, but with less acidity and as already mentioned a lot of other fruit aromas. It is very hard to put your finger on the specific flavours and this makes this lemonade rather complex. I was instantly thinking on combining this with tequila and lime juice to create a kind of riff on a Paloma. I named the Drink "Turn Blue" after the Black Keys album which on first glance might seem like a stupid name for a pink drink. Still, on second glance you will find that the cover of the album features a hypnotism wheel which carries the colours blue and pink. Moreover, tequila is solely made from the blue agave species which is also referenced in the title and last but not least you probably will fall into a kind of hypnotised state if you have too many of this!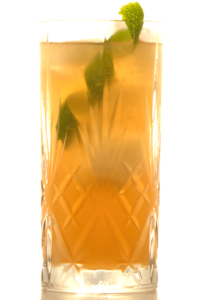 6 cl Calle 23 Blanco Tequila
3 Dashes The Bitter Truth Grapefruit Bitters
2,25 cl Lime Juice
Clearly this drink is very close to a Pink Paloma not only in colour but also in taste. Besides the exotic fruit aroma, the tequila is the predominant aroma in this Highball. Also, the lime manages to take a little bit sweetness from the cactus pear lemonade. If you are not into it, you of course can omit the saline solution, but it adds to the complexity of the drink, just like the salt in a Paloma does. The goal here is obviously not to end up with a salty drink! Instead you should just get a hint of salt in the aftertaste. When sampling this drink I actually enjoyed it so much, that I decided to keep it in mind for my birthday party this year. Hopefully, the availability of the Cactus Pear Soda Pop will be better in Summer!
The last one of the four soda pops from The Drinking Ape is called "Yuzu". The yuzu fruit is a Japanese citrus variety and I experimented a few times with its flavour so far. This flavour seems to be the new trend on the food market, similar to elderflower a few years back. You will now find it as a liqueur, as a flavoured sake or even as a tonic water. Here is another tonic water I already tried. For a drink idea, I had a simple combination of dry vermouth and orange juice in mind. I guess, I also have some explaining to do when it comes to the name of this drink. I am not saying that this highball tastes like cough syrup. On the opposite, it is very fruity and refreshing with a nice combination of wine flavour, herbs and citrus notes. However, my friend for whom I was mixing up the drink mentioned that the vermouth reminded him of a medicine he had as a child. So, I named the highball accordingly. Moreover, the song Cough Syrup by Young The Giant seemed to somehow suits this cocktail.
| | |
| --- | --- |
| | The Drinking Ape Yuzu |
| Alcohol: | / |
| Price: | TBA |
| Appearance: | Yellow |
| Nose: | Citrus fruits, slight sweetness, some bitter notes |
| Taste: | Citrus fruits, lemons, lime, hint of bitterness, lemon oils, nice balance of acidity and sweetness |
| Aftertaste: | Medium long with citrus peel, sweetness and a slight acidity |
| Rating: | |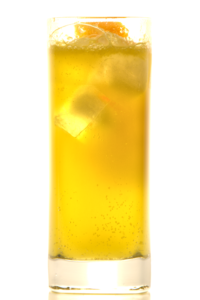 6 cl Belsazar Dry Vermouth
2,25 cl Orange Juice
Top off with The Drinking Ape Yuzu
Song: Young The Giant – Cough Syrup
In conclusion, I can absolutely recommend each and every lemonade from The Drinking Ape! They are a very refreshing take on soft drinks and mixers which add to the diversity of the market. Moreover, the soda pops give bartenders new ways of experimenting with new flavour combinations. Simultaneously, especially the liquorice lemonades are not undemanding to mix with and this makes them so much more fun than just the next tonic water! Make sure to grab a bottle if you see one!