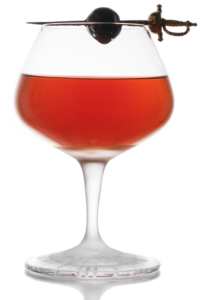 After my review of the Epicurean blended malt from Douglas Laing, I decided to take a look at their Island blend next. The Rock Oyster is a mix of single malts from Arran, Islay, Jura and Orkney. As a pairing in a cocktail, I went for a slightly bitter, but refreshing quinquina from Cap Corse. On top of that, I added an amaro to the mix.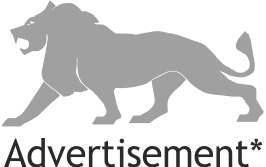 The next bottling in the Regional Malts series is the Rock Oyster. It was created to encapsulate the flavour of the island distilleries. Therefore, it uses scotch from distilleries from Arran, Islay, Jura and Orkney. On top of that, it is bottled at 46,8 % ABV without the addition of colouring and without chill-filtration. Moreover, there will be a new version called Rock Island.
Peated maritime scotch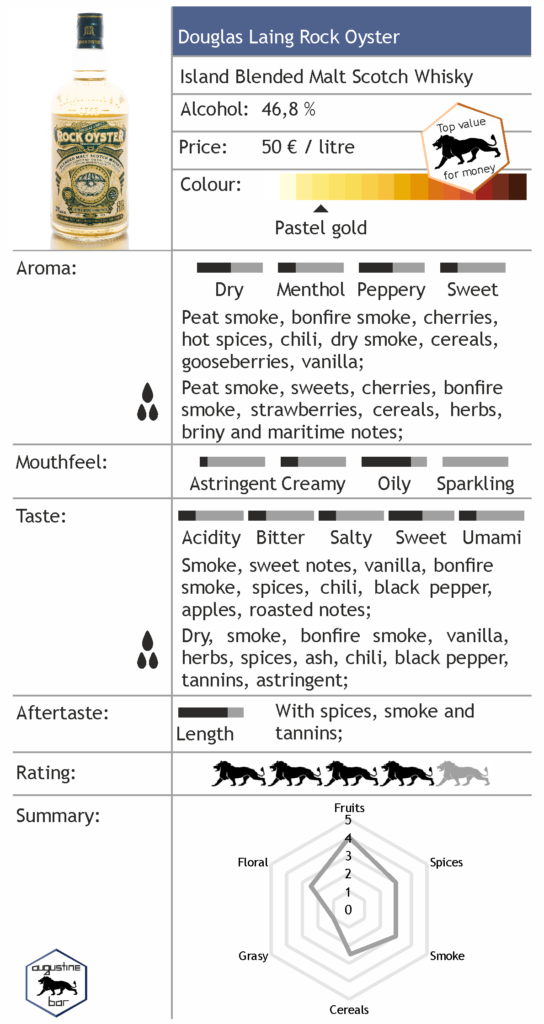 The great thing about the Douglas Laing Rock Oyster is its combination of slight peat smoke, bonfire smoke, complex bourbon barrel flavours and its maritime character. It has a slight salinity to it. Apart from that, you can also find intriguing fruit and cereal notes in the whisky. However, you also notice the slightly higher ABV.
Spirit forward and bitter
For a drink with the Rock Oyster, I chose a Boulevardier variation. However, instead of the regular vermouth I chose the Cap Corse Grande Reserve Rouge. The quinquina is packed with dried fruit and wine notes with a slight hint of bitter. Also, instead of Campari, I used the more rounded and smooth Mondino Amaro Bavarese. To give the drink at least one floral aspect fitting the name, I added a few dashes Dr. Sours Lavanda Bitters. They also work very well with the smoky whisky.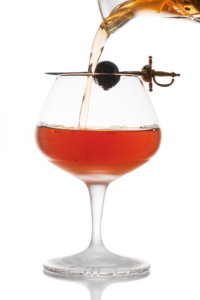 4,5 cl Douglas Laing Rock Oyster Blended Scotch
3 cl Cap Corse Grande Reserve Rouge
2,25 cl Mondino Amaro Bavarese

2 Dashes Dr. Sours #18 Lavanda Bitters
Stir – strain – chilled cocktail glass;
Garnish: Dried Cherry;
Song: Future Islands – Black Rose;
The resulting drink is spirit forward, but yet balanced. The bitterness is noticeable, but not overwhelming and the smoke notes go very well with the dried fruit notes of the Cap Corse. Of course, the Black Rose is different than a regular Boulevardier. Nevertheless, the amaro and the quinquina form a great background of herbal notes. They are rounded off by a certain sweetness.
*The fact that I received a product reviewed in this article for free, did not – in any way – influence the rating of said product.