There is always a new gin to try. This time, it is a handcrafted gin from Belgium, which carries a special pepper in its name. Apart from that, the name is also a reference to the prohibition. For a ticket, you could see a "blind tiger" in the back room and apart from that an assortment of alcoholic beverages. Some left over cream, gave me the idea to mix a Ramos Gin Fizz twist with the Blind Tiger Piper Cubeba Gin.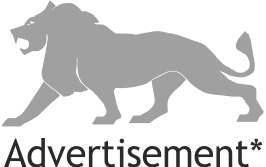 The Blind Tiger Piper Cubeba is distilled by the Deluxe Distillery in the Western part of Belgium. The Blind Tiger uses 15 botanicals such as angelica root, bitter orange peel, coriander seeds, cubeb berries, ginger, green cardamom, hops, juniper, lavender, lemon peel, liquorice, malted barley, orange blossom, orris root and sweet orange peel. All botanicals are macerated and distilled in a 400 l pot still, except for the cubeb pepper. The cubeb pepper is distilled two times and added to the gin afterwards.
Pepper, but not that much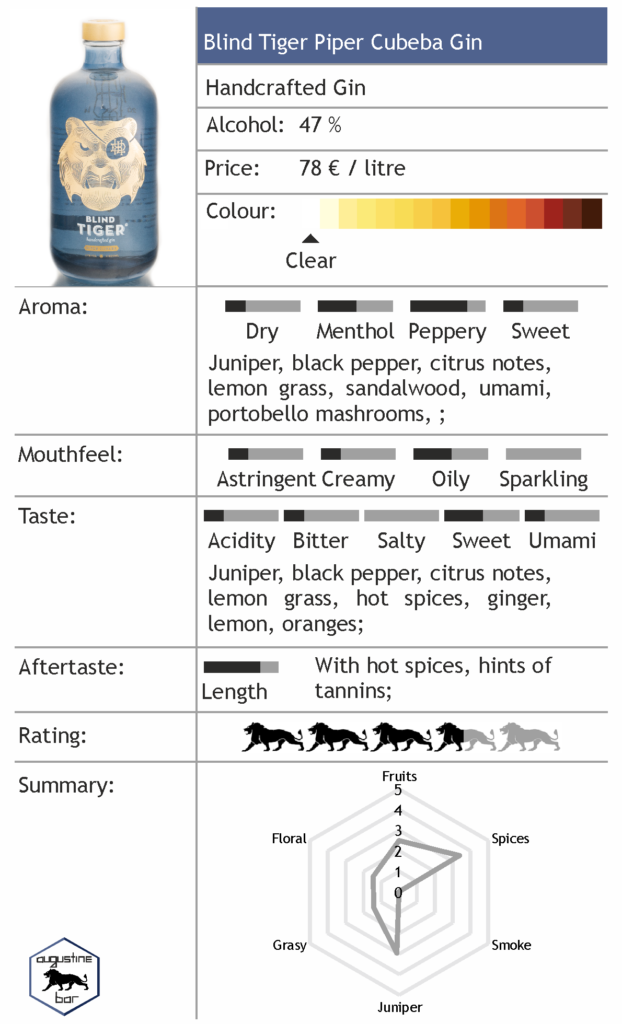 Of course, when a gin is called "Piper Cubeba" you expect to find pepper notes in the flavour. Indeed, you can smell and taste some pepper in the Blind Tiger Gin. Yet, it is not overwhelmingly peppery, while remaining a good amount of juniper notes. I did not expect the gin to be a juniper bomb but I was surprised to find a relatively clear cut juniper note. Apart from that, you will find some citrus and even a lemon grass flavour in the taste. However, for me the most distinguishing fact of the Blind Tiger is its umami aroma in the back of the taste.
Fluffy, creaminess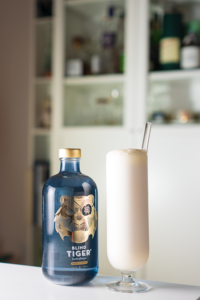 It has been a long time since I had my last Ramos Gin Fizz. So, when discovering an open bottle of cream in the fridge, I decided to mix one up. On top of the Blind Tiger Gin, I also wanted to use the Dwersteg Orange Liqueur, an organic orange curacao made from wine distillates, bitter orange essences and sugar. I also have to admit, that I did not have limes on hand. That is why I only used lemon juice in the "Tigers" recipe. If you want you can add a little bit of vanilla extract to the drink, too.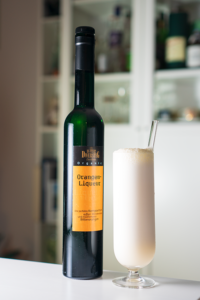 4,5 cl Blind Tiger Piper Cubeba
1,5 cl Dwersteg Orange Liqueur
3 cl Lemon Juice
1,5 cl Heavy Cream
2 cl Simple Syrup
3 cl Aqua Faba

3 Drops Rosewater
3 Drops Orange Flower Water
Top off with Sodawater
Shake over ice – strain in second shaker – shake again – fill chilled Highball glass – top off with Sodawater:
Garnish: No garnish;
Song: Guillemots – Tigers;
The resulting drink is mellow and yet complex. It tastes like the regular Ramos Gin Fizz with an additional orange note. The flower waters come into play in the background of the taste. The cocktail is very enjoyable and although it uses heavy cream it is quite refreshing. I can imagine sipping this on the first warm evenings of the year.
*The fact that I received a product reviewed in this article for free, did not – in any way – influence the rating of said product. The glass was provided by APS Glass & Bar Supply GmbH and glass straws by Der Glastrinkhalm.