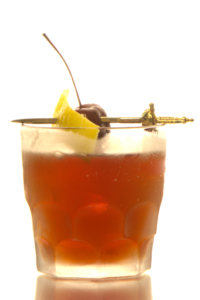 First an apology is in order: I did not manage to keep my blog up to date and there is no excuse for that! Well, wait actually there is: I moved to another town and started an internship. I simply could not handle everything at once. Nevertheless, I owe you an article no matter what reason and luckily I have one on hand! I had the chance to taste the new and limited 1776 Bourbon Aged For Seven Years!
Even though I only moved for half a year and my hometown is not far away, after work I simply could do nothing besides eating, sports and sleeping. With sleeping clearly taking up most of the time. – Enough with the lame excuses and on to the matter at hand! The regular 1776 Bourbon and Rye bottlings have managed to become one of bartender's favourites here in Germany. And I think some of it has to do with them being bottled at 100 Proof and the fact that they are moderately priced. Besides that the full name of this brand of whiskeys, James E. Pepper, is reckoned to go back as far as the American revolution. Yet, the products you can buy today are the result of extensive research by the George Town Trading Company.
Extensive research or just marketing?
This research is said to have consisted of sampling various old bottles of James E. Pepper whiskey and acquiring a letter from James E. Pepper himself, which luckily also mentioned the mashbill… Apart from that, the modern whiskey consists of new distilled spirit and a so called selection of old barrels from other distilleries, which seem to have a similar character to the old whiskey. Be that as it may, we probably will never know if they really managed to recreate the old recipe. For the sake of it, let us just concentrated on the taste of this whiskey. The mashbill of the limited bottling includes 38 % rye and the sprit is allowed to be aged for seven years. It seems like this Bourbon is only available here in Germany and maybe this is due to the high demand of the regular 1776 whiskey.
| | |
| --- | --- |
| | 1776 Bourbon Aged 7 Years |
| Alcohol: | 46 % |
| Price: | 58,54 € per litre |
| Appearance: | Amber, small windows, slow tears |
| Nose: | Vanilla, slight bitterness, cereals, vegetal notes |
| Taste: | Mellow, spicy, vanilla, again a hint of bitterness, reminiscent of malted barley, nutmeg, dried apples |
| Aftertaste: | Medium long aftertaste, with vanilla and spices, slight hint of cut grass |
| Rating: | |
The 7 Year Old 1776 is rather good whiskey. It delivers everything you would expect from a Bourbon: intensive vanilla and oak flavour, in combination with some sweet cereal notes, which I believe come from the relatively high rye content. It is very easy to sip and it also lacks the characteristic, but sometimes annoying paint thinner notes. Despite that, its smoothness also makes it a little bit boring… In my opinion, the regular 1776 Bourbon clearly has more punch and this is not only up to the higher strength. I think you have to decide what you are looking for in a Bourbon: If you want a good Bourbon for using in a Whiskey Sour, this one may be a little bit weak on its shoulders. Though, if your favourite poison is a Old-Fashioned I only can imagine that this would be rather perfect for that.
Spirit and clove forward
For a drink idea I created a riff on the famous Boulevardier cocktail. Instead of Campari I used one of my favourite Amaros Amaro Montenegro. To change things up even further I also replaced the red vermouth for some 10 year old Tawny port. And if that wasn't enough, I also added some drops of The Bitter Truth Jerry Thomas Bitters. When I say drops, I mean it! I do not use those bitters a lot and every time I do I am surprised again how potent they are! Since, I am watching The Wire at the moment I just could not help myself but name the drink after the title song. As you might know the song stays the same every season, but is interpreted by another artist. In this case the version performed by Tom Waits is my favourite and therefore you should listen to it when enjoying this drink, or any other spirit forward Bourbon cocktail for that matter.
3 Drops The Bitter Truth Jerry Thomas Bitters
Stir – strain – chilled small Old-Fashioned glass;
Garnish: Lemon Twist – Brandied Cherry;
Song: Tom Waits – Way Down In The Hole
As mentioned in the above headline, this drink is both: clove and spirit forward. The intensive clove note to one part comes from the bitters and to the other from the Amaro, which also has noticeable clove notes. All in al, this drink is more reminiscent of a Manhattan than a Boulevardier. It somewhat lacks the distinctive bitter component, but it makes up for it in complex herbal and wine notes. If you are bored with your usual Manhattan, but are not keen on Campari this is exactly the right drink for you! In my mind the cocktail, while being flavourful, still leaves enough room to the Bourbon, so it can bring out its full aroma.
In conclusion, the 1776 Bourbon Aged For 7 Years is more suited for neat sipping and refined drinks where each flavour component has the chance to show its full potential. This compared with the more than moderate price tag makes it a real value for money tip. So, grab a bottle before the limited edition is sold out!