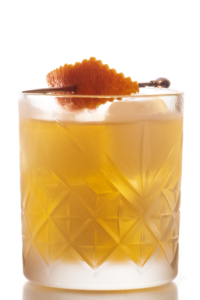 When you think of heavily peated Islay single malt, you often think of the distilleries on Islay's South coast. However, since a few years another distillery on the island set out to challenge the familiar names in the peated malt business. Bruichladdich, a traditionally none peated single malt, also has a line of heavily peated scotch, they sell under the Port Charlotte label. In this article, I will take a closer look at their new 10 year old bottling.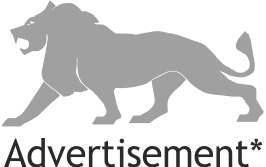 Bruichladdich call themselves "Progressive Hebridean Distillers" and they regularly come up with new ideas. On top of that, the design of their bottles sets them apart from other more traditional soctch bottlings. Now, the new Port Charlotte bottle just looks stunning and suits this special whisky very well. That being said, Bruichladdich also is committed to transparency, they give very detailed information on what is in the bottle. The Port Charlotte 10 Years is distilled from Scottish barley from the Invernesshire region, which was heavily peated to 40 ppm. The barrels used for the final whisky were 65 % first fill Jack Daniel's Tennessee whisky barrels, 25 % second fill French wine casks and 10 % second fill Jack Daniel's barrels. It is then aged for 10 years, brought down to 50 % ABV with Islay spring water and bottled on Islay.
Complex smoke and a hint of fruit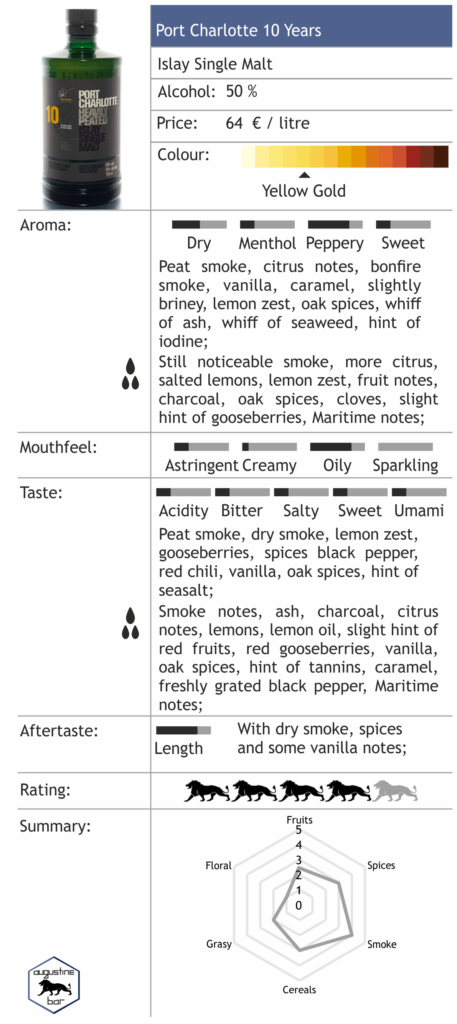 To be honest, I was not a big fan of the earlier Port Charlotte bottlings. They tasted just a little bit too young for me. This 10 year Port Charlotte bottling however blew me away. It has complex smoke aromas which are comprised of peat smoke, bonfire smoke with a bit of ash. After the initial smoke has settled the second biggest flavour you will get are citrus notes. They remind me of lemon and lemon zest. On top of that, the single malt also has a certain Maritime character with iodine, saline and seaweed flavours. However, these notes are certainly less pronounced than in other Islay bottlings. I also can detect some darker fruit notes, reminiscent of gooseberries, which might come from the French wine barrels used. I enjoy this combination of wine finished notes with dominant smoke aromas very much and therefore can only recommend the Port Charlotte 10 Years. It is a perfect dram for cold winter days at a fireplace.
A little sacrilege
Usually, I do not necessarily mix cocktails with single malt. There are a lot of great value-for-money blended scotches out there I rather use for drinks. Nevertheless, for the Port Charlotte 10 Years I had a cocktail idea in mind. Since, in my opinion smoke whisky and cherry go very well together I added a little bit of Dettling Schwarze Bergkirsche eau de vie. As a sweetener I used créme de cacao to hint the cocktail in the direction of a Vienna In Ashes. Last but not least I finished off the recipe by adding a few dashes of the Dr. Sours #11 Manganero Bitters.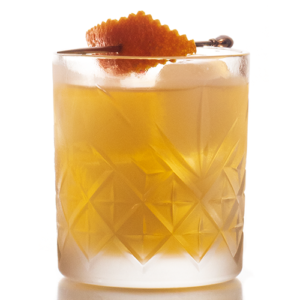 4,5 cl Port Charlotte 10 Years
0,5 cl Dettling Schwarze Bergkirsche
1,5 cl Tempus Fugit Créme De Cacao
2 Dashes Dr. Sours #11 Manganero Bitters
Stir – strain – chilled Old-Fashioned glass;
Garnish: Brandied cherry & orange twist;
Song: Frightened Rabbit – December's Traditions;
While the cocktail clearly reminds me of the "Vienna In Ashes", the slight cherry notes take the "December's Traditions" in a slightly different direction. The créme de cacao adds delicate chocolate and vanilla notes which help contrast the whisky's smokiness. Finally, the bitters add just a little bit more complexity.